Estonian Archives
---
Estland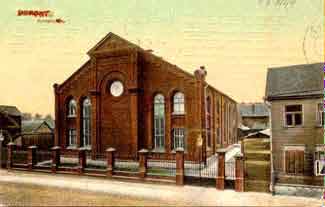 http://www.jewishvirtuallibrary.org/jsource/vjw/Estonia.html
The name for
Estonia
in
German.
In 1934, there were 4,381 Jews in this former Soviet Socialist Republic, with most living in
Tallinn
, the capital city. By the end of 1942, there were no known
Jews in Estonia
as they were massacred by the Omakaitse, (
Latvian sympathizers
) and by the
Germans
- the Sonderkommandos 1a of Einsatzgruppen A, Those few who lived were deported to
camps
by the Nazis. The
"
Encyclopedia of the Holocaust" published by Macmillan Publishing Company, stated that virtually all males over the age of 16 were in the process of being killed by October 12 to the 20th, 1942. About 500 Jews managed to escape to Russia and were exiled to Siberia.
Between July 17th through August 31, 1941 this massacre occurred. The Nazis conquered the country on September 3, 1941 Further information, including maps can be found at the Simon Wiesenthal Center site

http://motlc.wiesenthal.com/albums/malbum/m01/a0064m2.html
After the autumn of 1942, thousands of Jews from other countries were sent to labor camps in Estonia as part of the Nazi resettlement plan. The main holding camp was Vaivara located near the Soviet/Estonian border. Other camps where Jews were sent were Theresienstadt, Vilna, Kovno and the Kaiserwald camp in Latvia. The main labor camp of the twenty labor camps was Vaivara.
The forced-slave-laborers mined shale oil and built defenses for the German army. With the Soviet Army advancing on the Baltic Republics in the fall of 1944, the camps were evacuated by sea to the Stutthof concentration camp near Danzig.
On September 18 and 19, 1944, most of the remaining Jews were killed in the Lagedi and Klooga (Kaluga) camps - a few hours before the camp was liberated by an armored force of the Red Army. Fewer than ten survived. A memorial has been unveiled in Klooga and twenty-two more memorials honoring the Jews killed in Estonia during WW II are slated to be erected in the future. Some 1,500 Estonian Jews died during the war, and an estimated 10,000 Jews were killed in Estonia after having been deported to camps there from elsewhere in Eastern Europe.
After WW II, some 1,500 Estonian Jews, those who had fled to the Soviet interior in 1941 or survivors from Siberia, returned to Estonia. Today, the 3,000 strong Jewish community of Estonia is one of Europe's smallest. The Estonian Jewish leader is Cilja Laud. The current Estonian community's only property is a Jewish school building
Estonia
http://www.eenet.ee/englishEENet/estonia.html"An Estonia Canadian Jew Explores His Roots"
http://www.eestielu.ca/et/tellimine/eesti-elu-tellimine/59-estonian-life/life/people/411-uk-i-m-ok-an-estonian-canadian-explores-his-roots
---
I received the following Email: on Tuesday, May 28, 2002 from Raivo Hool hool@artun.ee I do not know Raivo but I believe his point of view is of interest in researching Jewish roots, and is the only reason why I decided to provide it on my site.
---
"Hi - I read that page I mention on the subject line http://jewishwebindex.com/estonia.htm
and was baffled. It can't be true. I know for a fact quite many Jewish people survived the holocaust in Estonia, because either they were helped to hide by Estonians or were simply reported dead to make the German officials happy. My own granduncle killed three German soldiers with a hunting knife to rescue a group of Jewish men. (He also suggested they lose the beards and cut their hair, for it was really remarkably unwise to walk around in a Nazi occupied country wearing a thick black beard and a yarmulke.) I used to date a Jewish girl whose parents and grandparents and their grandparents have happily been living in Estonia for a long time. Etc, etc. The list goes on."
"It is not, to my mind, very smart to rely on the official data, because those were very often faked so that people would be left alone. I am not saying that no massacres took place, far from that. I am only implying that Estonia was reported "Judenfrei" because Estonians wanted Germans off their backs and the official data are just a reflection of that." Raivo
P.S. No need to quote me on any of this."
---
Books
"A Guide to Jewish Genealogy in Latvia and Estonia"
Authored by Arlene Beare and - published in March, 2001by the Jewish Genealogy Society of Great Britain
ISBN: 0-9537669-2-6
This is an excellent guide for researching in Latvia and Estonia. Arlene is the President of the Latvia SIG This guide points you in the right direction for researching your roots in both of these countries. Modern and old names of Shtetlach are listed.
There are also references to cemeteries, museums and libraries. Resources, addresses of archives, details and copies of documents. Holocaust information, internet advice and travel information will all assist in your research. The guide is price at £4.50 (UK) - £6.00/US $10 (Overseas includes postage) Payment with orders and is available from The JGSGB Membership Secretary, PO Box 27061, London, N2 GOT
---
"Encyclopedia of the Holocaust"
Published in 1990 by Macmillan Publishing Company, New York, NY 10022
---
"SHOAH: Suur Having: Holocaust"
Authored by Eugenia Gurin-Loov published by ETSI Juudi Kogukond, the Estonian Jewish Federation, Tallinn, in 1994.
General
Estonian
Genealogy Information

"Bialik Club" in Tallinn
http://eja.pri.ee/history/Chronicles_en.html
"The Estonian Jewish Community is a small one. Out of а total population of 1,100,000, only 6,000, or about .5 per cent., are Jews. Over 2,000 of them live in Tallinn, the capital, the others living in Tartu (Dorpat), Narva, Valga, Pärnu and other smaller townships and villages.
The first Jewish settlements in Estonia date back to the early thirteenth century. In 1742, however, the Russian Tsar, under whose domination Estonia was for centuries, expelled all Jews. In 1828, some 500 Jewish boys aged from ten to fourteen were, according to a local historian, sent to Estonia to serve in Tsar Nicolas' army. The majority of them, unable to bear ensuing hardships, died, while the survivors were later allowed to remain and settle in Estonia.
In 1856, there was in Tallinn, then know as Reval, a Jewish Community numbering fifty. Its growth was slow, as the Russians hindered Jewish settlement in Estonia and particularly in Reval, which was one of Russia's main fortresses.
I would suggest to the researcher of the following sites, to also check the other two Baltic Country sites, including Latvia and Lithuania, as well as Poland and Belarus and Russia as there may very well be some cross references as the country borders changed many times between wars.
An excellent site to find information about most European countries

http://searcheurope.com
http://estonia.eu/about-estonia/society/the-jewish-community-in-estonia.html
Global Gazetteer
A directory of 2,880,532 of the world's cities and towns, sorted by country and linked to a map for each town. A tab separated list is available for each country.
www.calle.com/world/
Other sites, that should be of interest, include:
http://motlc.wiesenthal.com/pages/t020/t02099.html
http://motlc.wiesenthal.com/text/x07/xm0707.html
http://motlc.wiesenthal.com/text/x32/xm3212.html
---
Archives
-
(National Archives)
Rahvusarhiiv - in Tartu
http://www.ra.ee/
---
English-Estonian Dictionary
---
Estonia
There are approximately 28,000 Byelorussians in Estonia. See the 1993 information from The First World Convention of Byelorussians

http://www.belaurs-misc.org/bel-diasp.htm

http://www.ngonet.ee/eva
---
Estonian Biographical Center
It is the only establishment in Estonia where people can get help with their genealogy research by hiring a professional. Jewish Genealogy for the center's web site that offers information
english
Phone/fax +372 7 420 882,
Mobile +372 52 88 329
---
Estonian Institute Links
Find General Information, State and Government, Society, Culture and more
http://www.einst.ee/links.html?id=45
---
Estonia International Mail List
Now available for the Republic of Estonia. This mailing list is also gateway from the Estonia Message Board which means that any post made to the board will be forwarded to the mailing list. To subscribe to the mailing list in List Mode send an email to:
ESTONIA-L-request@rootsweb.com
with the word subscribe in the body of the message.
---
Estonian Jewish Community
(
Eesti Juudi Kogukond )
Karu 16 10120 Tallinn
Telephone/Fax: (0) 662 3034
Tallinna Juudi Kogudus
esimees - David Slomka
aadress: Magdaleena tn. 9
Telefon: 55 71 54
Email:
estonia@fjc.ru
This web site is in the Estonian language, but there are contact names that are readable in English

http://www.ngonet.ee/nationalminorities/selts/juudi/index.htm
---
Estonian Jewish Museum
Although mostly in the Estonian language, this is still an interesting site to visit
http://eja.pri.ee/index.html
---
Europages
Business 2 business company directory and business in Europe, yellow pages access,
international and European business directory (professional services, addresses and business classifieds

http://www.europages.com
---
Gallery of Memory
The names of about one thousand Estonian Jews that were murdered during the Holocaust in Estonia, are now recorded in the "Gallery of Memory" that will be opened in the Center of Estonian Jewish Community on the Holocaust Memorial Day, on January 27th 2015

http://www.eurojewcong.org/estonia/7339-memorial-of-estonian-jews-who-lost-their-lives-in-holocaust---the-%E2%80%9Cgallery-of-memory%E2%80%9C-soon-to-be-opened-.html
---
Holocaust
The Holocaust is part of the Estonian school curriculum, addressed in connection with the events of World War II. The subject is taught in grades five and nine, and in detail in the 12th grade modern history course. All Estonian Governments have condemned the Holocaust. Several Holocaust sites, for example in Klooga, Kalevi-Liiva, Vaivara, and Kiviõli have been officially designated and commemorated. In January 2012 the Jewish Community in Estonia opened the Gallery of Memory, where the names of nearly a thousand Estonian Jews that perished in the Holocaust are preserved. The main source of funding for the Gallery of Memory was the Government of the Republic
http://www.jewishvirtuallibrary.org/jsource/vjw/Estonia.html
http://www.ushmm.org/wlc/en/article.php?ModuleId=10005448
http://estonia.eu/about-estonia/society/the-jewish-community-in-estonia.html
---
Jewish and Kosher Estonia and the rest of the Jewish World
http://www.kosherdelight.com/KDindex.htm
---
Jewish Community of Estonia
Tallinn EE0090, Estonia
Email:
estonia@fjc.ru
http://www.ejc.ee/
http://eja.pri.ee/Community/Community_eng.pdf
http://www.estblul.ee/ENG/Members/juudi.html
---
Latvian SIG
Anyone interested in furthering their research in the area of Estonia, is encouraged to join the discussion group of the SIGLatvia and Estonia
latvia@lyris.jewishgen.org
Adam Katzeff
adam.katzeff@mail.bip.net
---
Maps
Map of towns in the Baltic provinces

http://www.angelfire.com/ms2/belaroots/Baltic_home.htmEstonia Map
http://www.europeetravel.com/maps/
Maps of Russia and the FSU (Former Soviet Union) Republics
Be prepared to stay online for quite some time, if you want to see one of the largest collections of different types of maps. This site is fabulous and offers a huge variety of maps that include such titles as Bukovina Maps; Ukraine Maps and Distances; Ex-USSR map; Maps of Europe in different eras; Russian Far East Maps; Belarus Maps; Ukraine Maps; Kazakhstan Maps: Georgia Maps; Tajikistan Maps; Crimea Maps; Uzbekistan Maps; Azerbaijan Maps; Kyrgyzstan Maps; Moldova Maps; Turkmenistan Maps; Armenia Maps; Caucuses Region Maps; Baltic States Maps including Estonia, Lithuania, and Latvia; and more at

http://users.aimnet.com/~ksyrah/ekskurs/maps.html
Map of City of Tallinn

http://www.ee/vana-tallinn/1_plaan.html
Open Street Maps

The crowd-sourced mapping project
OpenStreetMap
has amassed a million contributors since its inception in 2005 and, according to navigation app maker Skobbler, boasts greater accuracy in
England, Russia
and
Germany
than rivals such as Google Maps. I tried the site and found an accurate drawing of my father's ancestral town
Tal'ne, Ukraine.
Almost every country is available as is most towns
http://openstreetmap.org
---
Moving Here
Trace your roots from Estonia to Britain and help in finding the relevant records in your search

http://www.movinghere.org.uk/galleries/roots/jewish/country/estonia.htm
---
Museum of Occupations
This site proclaims that it's task is to document the catastrophes and cataclysms
which took place during the last fifty years

http://www.okupatsioon.ee/english/index.html
---
Newspaper Links
http://newslink.org/euest.html
---
Phone Codes
Ex USSR Phone Codes for Russia, Ukraine, Byelorussia, Byelorussia, Moldova, Lithuania, Latvia, Estonia, Kazakhstan, Georgia and Uzbekistan - you not only will see the phone code for each town (loads slowly) but also the proper spelling of the town name
http://phonecodes.narod.ru/N/N.htm
---
Search Engines for Estonia
Scroll down to 'Search Engines'
http://slavic.ohio-state.edu/people/yoo/links/default.htm
---
Slavophilia
A comprehensive guide to Internet resources on Russia and Central/Eastern Europe
http://www.slavophilia.com/
---
Synagogues
Tallinn Synagogue, also known as Beit Bella Synagogue, is located in Estonia's capital city. The privately funded synagogue in central Tallinn was inaugurated on May 16, 2007. The building is an ultramodern, airy structure, which can seat 180 people with additional seating for up to 230 people for concerts and other public events. It received global attention as it was the first synagogue to open in Estonia since World War II.
The original synagogue, built in 1883, was not rebuilt after being destroyed in March 1944 during a Soviet air bombing raid on Tallinn, which at the time was occupied by Nazi Germany - the city then became the only post-war European capital without a synagogue. Tartu, a university town in southeastern Estonia and the second largest city in Estonia, also had a synagogue which was destroyed during World War II."
---
Translation Service
Languages
A commercial site offering many language translating programs
http://www.worldlanguage.com
Just in case you didn't think of it, contact a nearby university or college's foreign language department. They may offer to write letters and translate letters into English. A nominal fee is usually charged.
---
Yizkor Books
All of the Pinkasim translations are indexed at:

http://www.jewishgen.org/yizkor/Pinkas_latvia/pinkas_latvia.html
Cities and Shtetls of Estonia
http://www.alljewishlinks.com/estonian-jews-honor-victims-of-moscow-terror-attacks/
There is little information regarding the arrival of Jews in Estonia. There are, according to archive materials, individual reports of Jews in Estonia as early as the fourteenth century. This, however, should not be considered the starting point for a permanent Jewish settlement here; Jews were prohibited from living in Estonia, i.e. Estonia was not part of the region designated for Jewish habitation.

http://old.estinst.ee/historic/society/estonian_jews.htm
http://www.jewish-heritage-europe.eu/country/estonia/estonia.htm
---
Gdov (Russia)
67 miles southeast of
Tallinn, it is the Pskov Region.
By the end of 1942, there were no known Jews in Estonia as they were massacred by the Omakaitse.
---
Kalevi-Liva
---
Kivioli
---
V
aivara
---
Narva
A small Jewish community existed here until WW II and is 65 miles east of Tallinn.

http://www.fjc.ru/communities/institution.asp?AID=85910
---
Nomme
A small Jewish community existed here until WW II

http://www.ushmm.org/wlc/en/article.php?ModuleId=10005448
---
Paide
http://kevindayhoff.blogspot.com/2008/07/20080702-paide-estonia-wednesday.html
43 miles SE of Tallinn. It is the capital of Järva County.

http://en.wikipedia.org/wiki/Resistance_during_World_War_II
---
Parnu
A small Jewish community existed here until WW II. The Jewish population spread to other Estonian cities where houses of prayer (at
Valga
,
Pärnu
and
Viljandi
) and cemeteries were erected.
http://en.wikipedia.org/wiki/History_of_the_Jews_in_Estonia
http://www1.yadvashem.org/yv/en/education/conference/2006/30.pdf
---
Rahasybl
A labor camp operated by the Germans during WW II which held Jews

http://library.thinkquest.org/CR0210520/concentration_camps.htm
---
Rakvere (
Viesenberg, Vezenberg)
A small Jewish community existed here until WW II located 57 miles east of Tallinn.

http://www.centropa.org/index.php?nID=30&x=bGFuZF9zZWxlY3Rvcj0xNDk7IHNlYXJjaFR5cGU9QmlvRGV0YWls
OyBzZWFyY2hWYWx1ZT03MTc7IHNlYXJjaFNraXA9MA==
---
Tallinn
Jewish Hebrew Kindergarten "Tarbut" in Tallinn - 1937

http://eja.pri.ee/cpg144/thumbnails.php?album=6&page=1
The capital city of Estonia, had a population of nearly 150,000 prior to WW II. It is a seaport on the Baltic in the southwestern part of the Gulf of Finland.
A Jewish community existed here from the middle of the nineteenth century, when discharged cantonists (soldiers who were drafted as youngsters into the Russian army and who were forced to serve 25 years) were living there after their discharge. In 1939, there were 2,300 Jews living in this city - about half of the Jewish population of Estonia.
After the start of WW II, specifically during September and October, 1941, most of the men who had been confined to the city jail, were killed at Kabarneeme, at the killing site of Kalevi - Liiva. According to the "Encyclopedia of the Holocaust", the killing was done primarily by Estonian Nazi collaborators, the members of the Omakaitse organization, under the command of Sonderkommandos 1a personnel. According to German records dated December 19, 1941, 610 Jews had been killed by that date; the remaining Jews of Tallinn were murdered in early 1942."
Upon liberations of the city on September 22, 1944, only five Jews survived, but later a thousand of the Jews who had been in exile in Siberia, returned.
Jewish Community of Tallinn
President: Semyon Melamed
PO Box 961
EE 0034, Tallinn, Estonia

http://www.ejc.ee/
http://www.fjc.ru/communities/default.asp?AID=84572
Beit Bella Synagogue
9 Magdalena Street

Tallinn, Estonia
Tel: 02-55-7154
http://en.wikipedia.org/wiki/Tallinn_Synagogue
Tallinn University
The struturalist's role "I am not certain the school would have developed without him," said member of the Estonian semiotics repository and
Tallinn University teacher Piret Peiker
. "Not the kind of Tartu-Moscow school we have today." Born and educated in
St. Petersburg
, Lotman's career as a scholar began in
Estonia
due in part to the fact that he was
Jewish
and was not allowed to work in
Russia
in the late 1940s. He moved to Tartu in 1950.
Tallinn University is the site of the Semiotics Repository based on the Lotman archive and library. It is still under construction as there are a huge number of documents to work through, including 18,000 letters sent to Lotman and his wife and collaborator Zara Mintz.
Peiker says the archive has turned up several previously unpublished manuscripts. And the repository has also received distinguished semioticians conducting research - "One interesting visitor was Umberto Eco, who came to look at Lotman's drawings," said Peiker.
http://www.tlu.ee/?LangID=2&CatID=1331
http://www.tlu.ee/?LangID=2&CatID=1359
---
Tartu
http://eja.pri.ee/cpg144/thumbnails.php?album=6&page=5
A small Jewish community existed here until WW II and is about a 2.5 hour drive from Tallinn.

http://balticbusinessnews.com/article/2011/7/13/university-of-tartu-a-world-class-scientific-institution
http://news.err.ee/culture/5be1a354-ea8d-4d7b-828d-ee6f76ad40eb
---
Tuula (Tula, Thula)
15 miles southwest of
Tallinn
http://www.helsinki.fi/jarj/sqs/sqs1_08/sqs12008juvonen.pdf
http://www.youtube.com/watch?v=wQ_tAMpd43g
---
Valga
http://eja.pri.ee/cpg144/thumbnails.php?album=6&page=5
A small Jewish community existed here until WW II

http://eja.pri.ee/cpg144/thumbnails.php?album=6&page=5
---
Viljandi
A small Jewish community existed here until WW II
http://www.jewishvirtuallibrary.org/jsource/vjw/Estonia.html
Cemetery
http://www.iajgsjewishcemeteryproject.org/estonia/viljandi.html
http://www.jewish-heritage-europe.eu/country/estonia/estonia.htm
---
Voru
A small Jewish community existed here until WW II

http://eja.pri.ee/stories/The%20Estonians.pdf
http://www.placesonline.com/europe/estonia/voru/travel_tips/history.asp
Cemetery
http://www.iajgsjewishcemeteryproject.org/estonia/voru.html
Travel Information
"
Traveling Roots
" page
---
For books on Travel use my Amazon.com link by
clicking here
Check out Hotel Book by Utell, a hotel marketing and reservation company that represents more than 7,700 hotels in 180 countries at

http://www.hotelbook.com
At this site you can learn about hotel accommodations in
Otepaa, Parnu and Tallinn