In July, 2004, where the site of the destroyed Great synagogue was, a treasure trove of Judaica was discovered. The object had been buried since the Holocaust and included three bronze candelabras, a bronze menorah, 10 chandeliers and a Ner Tamid (eternal lamp) that once hung before the synagogue ark. Tomasz Kuncewicz is the director of the Auschwitz Jewish Center, a prayer and study complex near the site of the notorious death camp.
There were approximately 40 more satellite camps established around Auschwitz. These were forced labor camps and were known collectively as Auschwitz III.
A visit to: Auschwitz, Birkenau, Kazimierz, Lublin, Majdanek, Plaszow, Treblinka, Tykocin, Warsaw. Photos and commentary
http://www.scrapbookpages.com/Poland/
Ira Block posted on 1/30/07 "I recently emailed requested photos from the following shuls/cemeteries. If anyone wants copies of Auschwitz, just send a request via email to irablock@gmail.com

Also more information available at
Simon Wiesenthal Center Multimedia Learning Center
http://www.holocaustforgotten.com/journey.htm
Auschwitz-Birkenau Complex
An overview at
http://cryptome.org/eyeball/auschwitz/auschwitz.htm
Auschwitz Concentration Camp Death List
Beginning with the letter "U". You can also search other names by changing the letter u (before .htm) to any other letter
i.e. s

Auschwitz Concentration Camp in Poland
Introduction. An informative site - click "cancel" to get in to page
http://www.luketravels.com/auschwitz/
Auschwitz Death Certificates with names beginning with
http://cleveland.indymedia.org/news/2007/03/24627_comment.php
Auschwitz Jewish Center
Located in Oswiecim (Polish for Auschwitz)
The website (in English )
http://www.ajcf.org
Email: address in Poland is info@ajcf.pl

Auschwitz Jewish Center Foundation
Located at 36 West 44th Street,
Suite 310,
New York, NY 10036.
Telephone 212 575 1050
Email: info@ajcf.org
http://www.ajcf.org
A film about what is believed to be the only organized uprising ever attempted by the prisoners at Auschwitz-Birkenau was released. It is entitled "The Grey Zone" and tells the story of the October 7, 1944 uprising by the Sonderkommandos, Jews who were forced to assist in the extermination of their fellow prisoners in the gas chambers. The prisoners managed to blow up one of the four crematoria, but the SS quelled the riot and hundreds of Jews involved were executed.
Auschwitz Laborers:
Documents on 5,310 forced laborers who entered Auschwitz, including parents' names and maiden names.
http://search.ancestrylibrary.com/search/db.aspx?dbid=1531Holocaust

State Museum of Auschwitz-Birkenau,
"Death Books from Auschwitz"
published in 1995
http://www.auschwitz.org.pl/
Bronisaw Honig
A boy of the Holocaust from Krakow
http://www.auschwitz.dk/honig.htm
Czech, "Auschwitz Chronicle",
Published in 1990

Jane Haining
Saint from Auschwitz - she protected 400 children during the Holocaust and she died in Auschwitz for her beliefs
http://www.auschwitz.dk/Haining.htm
Jewish Museum of Auschwitz
2002 Auschwitz Museum publication, Ksiega Pamieci Transporty Polakow do Kl Auschwitz z Krakowa, 1940-1944
(Memorial Book, Transport of Poles from Krakow to Auschwitz, 1940-1944).
http://ajcf.org/jewish-museum/
This five volume set of books contains information on about 18,000 Jews and non-Jews deported from the Cracow area. The names themselves have long been available on the Auschwitz Museum website (enter Search and then family name). However, the information given on the website is often less extensive than that contained in the books themselves. For example, Blitzer, Kalman is listed on the website as having been born January 1, 1923 in Bojanow and perishing in Auschwitz October 28, 1941. The relevant book entry contains a transport list which gives his date of arrival in Auschwitz, identifies his date of birth as February 1, 1923, born in Bojanow, and includes his Auschwitz prisoner number, 21894, and profession, Glasslehrling (glassmaker apprentice).

Persons interested in the Cracow area (not just the city) should check the Auschwitz website. If a name of interest is located, then turn to the book for possible additional information. The book is available at the New York Public Library and various university libraries around the United States. From a posting by Peter Lande plande@ushmm.org

The Auschwitz-Birkenau State Museum's online database can be searched at
http://en.auschwitz.org/m/index.php?option=com_content&task=view&Itemid=31&id=529

If you find a relative listed in the Auschwitz database who was deported from Cracow (Krakow) -- an icon with a K will be to the left of the name -- Peter may be able to provide more information from the U.S. Holocaust Memorial Museum's resources.
Renee Steinig
http://ajcf.org/jewish-museum/
Photos of the Holocaust
http://www.auschwitz.dk/id17.htm
Polish-Jewish Relations
http://www.holocaustsurvivors.org/data.show.php?di=record&da=encyclopedia&ke=107
Searchable Database in English
The total number of records in the database remains at 69,000 and the search will still display no more than 40 names at a time even if there is indication that many more are in the database. In the FAQ there is an explanation of the use of 'wildcard' entries.
http://www.auschwitz.org.pl

Virtual Tour of Auschwitz
http://www.remember.org/
The Yad Vashem
Information about Auschwitz including photos and a map at
http://www1.yadvashem.org/yv/en/exhibitions/album_auschwitz/index.asp
---
Belzec, (Poland)
One of three euthanasia sites built after the Wannsee Conference of June 20,1942, Belzec is located in southeastern Poland and approximately 550,000 Jews were gassed in a mere 13 months.
A Reassessment: Resettlement Transports to Belzec, March-December 1942
http://www.jewishgen.org/yizkor/translations.html
http://www.us-israel.org/jsource/Holocaust/Sobibortoc.html
This camp is located in the Lublin area and was the location of the killing of over half a million Jews. It had gas chambers that held 1,200 people, according to the U.S. Holocaust memorial Commission, and 600,000 died there. The Nazis eradicated all traces of their crimes here. According to a post by Suzan Wynne, "people were taken there to be killed immediately. There were no records kept on the people killed. The camp itself, was destroyed by the Nazis."
The USHMM has a site that's main purpose is to preserve the memory of the victims of this killing center.
www.ushmm.org/belzec
There is a partial list of the Jewish communities exterminated by the Germans in the Belzec death camp.
http://www.zchor.org/belzec/belzec.htm
On August 10, 1942, the massive deportation of Jews from the Lvov Ghetto to this killing center begins.
---
Bergen-Belsen
Bergen-Belsen is about 60 miles south of Hamburg. The visitors center documents the prisoners of war camp, where 40,000 Soviet POWs died in 1942 after having been transported there from the Eastern front in open railcars and interned without cover. Anne Frank was also murdered at this camp.
www.bergen-belsen.de
---
Books
'Gedenkbuch: Haeftlinge des Konzentrationslagfers Bergen-Belsen"
published by Niedersaechsische Landeszentrale fuer Politische Bildung -- Gedenkstaette Bergen-Belsen' in 1995 and has 652 pages. The book lists 25,000 inmates at the death camp Bergen-Belsen.
---
The Holocaust Memorial Center in West Bloomfield, Michigan has a copy of a rare book
"Gedenkbuch Haeftlinge des Konzentrationslagfers Bergen-Belsen"
published by Niedersaechsische Landeszentrale fuer Politische Bildung - Gedenkstaette Bergen-Belsen in 1995. 652 pages
---
"Holocaust and Rebirth: Bergen-Belsen 1945-1965"
Published by Bergen-Belsen Memorial Press
---
"Irgun Sheerit Hapleita Me-Haezor Habriti"
A memorial book about this camp
---
Lists of Czechoslovak inmates at Bergen-Belsen and Theresienstadt camps
http://www.jewishgen.org/yizkor/bergen-belsen/
---
Birkenau
Birkenau Concentration camp map
http://remember.org/camps/birkenau/index.html
"If the deportation took place from what had been German territory in 1938, there is a Memorial Book for those. There are also Memorial Books for Theresienstadt deportees from what is now Austria and another one for deportees from what was Czechoslovakia. These volumes provide information about transport number, date of arrival in Theresienstadt, death in Theresienstadt, transport number and date of deportation to another destination or liberation in Theresienstadt." Posted by Charles Vitez on JewishGen
"During the Holocaust, they took the names away of the people, each with their own soul, and they put numbers on their arms. The job of a Jewish Genealogist, is to replace those numbers and give them back their names." Arthur Kurzweil
On May 4, 1942, for the first time, a "selection" was carried out at this killing center (Auschwitz II) with German officers deciding who among a transport of Jews shall die by gassing and who shall live as slave laborers. This marks the beginning of the mass gassing of Jews in Auschwitz-Birkenau. On May 12, 1942 1,500 men, women and children from Sosnowiec are gassed.
Ira Block posted on 1/30/07 "I recently emailed requested photos from the following shuls/cemeteries. If anyone wants copies of Birkenau just send a request via email to irablock@gmail.com
---
Blacher Camp
http://holocaustmusic.ort.org/index.php?id=memorials
http://www.holocaustresearchproject.org/ghettos/tarnow.html
---
Buchenwald, Poland
Buchenwald Concentration Camp CD
There appears to be a CD available from the Buchenwald Memorial Historical Department. On the cover is shown an object of a cover of an urn from the local crematorium in Weimar. Ashes from those cremated at Buchenwald stayed in the administration of the camp. In time, they were poured out. Upon the arrival of the US Army, thousands of urns or covers were found.
http://www.ushmm.org/
Buchenwald Death List
Polish men 1939
http://www.jewishgen.org/yizkor/translations.html
The Hunt for Danish KZ
Details re the hunt for Carl Vaernet, the Danish doctor who carried out atrocities on gay men at Buchenwald
http://users.cybercity.dk/~dko12530/hunt_for_danish_kz.htm
---
Bunchow, Germany Concentration Camp
http://en.wikipedia.org/wiki/List_of_Nazi-German_concentration_camps
http://www.ushmm.org/wlc/article.php?ModuleId=10005475
---
Chelmo
Located near Lodz Poland, became the first to be put into operation on December 8, 1941. On May 4-12, approximately 10,000 Jews who had arrived in the Lodz Ghetto some six months earlier from Germany, Luxembourg, Vienna and Prague, are deported to this killing center.
http://motlc.wiesenthal.com/text/x07/xm0712.html
---
Czestochowa
Reference is made of this camp in the book "Hitler's Willing Executioners". Czestochowa Forced Laborers: 4,610 prisoners at the Hasag Pulcery labor camp in Czestochowa.
Holocaust
---
The Dachau Concentration Camp

Photo taken by Ted Margulis
Officially opened on Wednesday, March 22, 1933, and was liberated in 1945 by the all-Black 761st Tank Battalion in 1945.
Dachau Camp Entry List
http://www.kz-gedenkstaette-dachau.de/english/index.html

Dachau Database
Over 190,000 Indexed pages
http://clevelandjgs.org/images/dachauatoz.pdfn
Dachau Indexing Project
Over 78,000 records have been recorded
Holocaust
Dachau Museum
Email: info@kz-gedenkstaette-dachau.de

There is another project initiated, computerizing 122,000 records from Dachau, part of the 189 reels of Captured German Documents (see German Records below). A project of computerizing 122,000 records from Dachau, part of the 189 reels of captured German Documents is in process.
Given the enormity of the collection, you can send an inquiry to NARA requesting a search IF you can be very specific about the person being south. If such information is available, send an Email: to james.kelling@nara.gov
Photos
After 64 years, Bruce Sadler slowly is unraveling the mystery of the haunting Nazi photos his father, Paul, found in the Dachau concentration camp in Germany at the end of World War II. Read this most interesting story about Bruce's father finding these photos in Dachau two days it was liberated by American forces.
http://m.courierpress.com/news/2009/oct/29/faces-of-the-past/

Declassified Dachau Concentration Camp List of 2860+ names
The possessions of each inmate were placed in envelopes and marked with their names, nationality (or in some cases reason for imprisonment at the camp such as political prisoner) birth date and their Nazi assigned number.
http://www.us-israel.org/jsource/Holocaust/cclist.html
---
Dakovo
Located in eastern Croatia
http://www.nationmaster.com/encyclopedia/Dakovo
---
Displaced Persons Camp List
http://www.ushmm.org
(click on the URL for the DP Camp)

http://www.ushmm.org/dp/menu.htm
(Clicking on "camps" gives you a list of camps by country
Foehrenwalders at Wolfratshausen
Stadtarchives Wolfratshausen
Loisach Ufer 1
82515 Wolfratshausen, Germany
---
Drancy
On June 22, 1942, for the first time, a transport of Jews is sent from Drancy to Auschwitz.
A Paris suburb where a memorial to the tens of thousands of French Jews who were shipped to Auschwitz stands today in their memory. There were a number of convoys (around 50) that departed for Auschwitz in 1943 including Convoy No. 62 consisting of 1,199 Jews
http://en.wikipedia.org/wiki/Drancy_internment_camp
http://www.jewishvirtuallibrary.org/jsource/Holocaust/Drancy.html
http://www.jewishvirtuallibrary.org/jsource/Holocaust/Izieu.html
These are the children from Izieu and their seven supervisors
Sami Adelsheimer, 5

Hans Ament, 10

Nina Aronowicz, 12

Max-Marcel Balsam, 12

Jean-Paul Balsam, 10

Esther Benassayag, 12

Elie Benassayag, 10

Jacob Benassayag, 8

Jacques Benguigui, 12

Richard Benguigui, 7

Jean-Claude Benguigui, 5

Barouk-Raoul Bentitou, 12

Majer Bulka, 13

Albert Bulka, 4

Lucienne Friedler, 5

Egon Gamiel, 9

Maurice Gerenstein, 13

Liliane Gerenstein, 11

Henri-Chaïm Goldberg, 13

Joseph Goldberg, 12

Mina Halaunbrenner, 8

Claudine Halaunbrenner, 5

Georges Halpern, 8

Arnold Hirsch, 17

Isidore Kargeman, 10

Renate Krochmal, 8

Liane Krochmal, 6

Max Leiner, 8

Claude Levan-Reifman, 10

Fritz Loebmann, 15

Alice-Jacqueline Luzgart, 10

Paula Mermelstein, 10

Marcel Mermelstein, 7

Theodor Reis, 16

Gilles Sadowski, 8

Martha Spiegel, 10

Senta Spiegel, 9

Sigmund Springer, 8

Sarah Szulldaper, 11

Max Tetelbaum, 12

Herman Tetelbaum, 10

Charles Weltner, 9

Otto Wertheimer, 12

Emile Zucherberg, 5

Lucie Feiger, 49

Mina Friedler, 32

Sarah Levan-Reifman, 36

Eva Reifman, 61

Moïse Reifman, 63

Miron Zlatin, 39
---
Flossenburg
Reference is made of this camp in the book
"Hitler's Willing Executioners".
Helmbrechts Walk
A memorial testament to the forced march of 580 female Jewish prisoners at the end of the Second World War. The march began on April 13th 1945 in order to evacuate Helmbrechts, a small satellite unit of the Flossenbürg concentration camp before American troops arrived. Silas' work acts as a visual representation of the 225 miles that the prisoners were forced to walk from the camp in Germany into occupied Czechoslovakia.
http://www.artknowledgenews.com/2010-04-15-21-35-23-photographer-susan-silas-retraces-a-holocaust-death-march-helmbrechts-walk.html
---
Gross-Rosen
Reference is made of this camp in the book "Hitler's Willing Executioners". It was once located in Germany but now in Poland.
http://www.ushmm.org/wlc/en/article.php?ModuleId=10005454
---
Grussau
Many elderly Jews were deported from Breslau and other places in Niederschlesien. There is a book available with approximately 1,800 names:

Books
"Tormersdorf, Gruessau, Riebig" (Obozy Przejsciowe dla Zydow Dolnego Slaska z lat 1941-1943)
Authored by Alfred Koniczny and published by Wydawnictowo Uniwersytetu Wroclawskiego in 1997 in soft back
ISBN 83-229-1713-9
http://www.aufrichtigs.com/03-Other_Aufrichtigs/german_holocaust_victims.htm
---
Gurs

Jewish Women in Gurs

A camp located in southern France
http://www1.yadvashem.org/yv/en/exhibitions/this_month/april/06.asp
---
Hartheim Castle
Located in northern Austria, a recent renovation at the castle revealed the remains of some 30,000 humans killed there by the Nazis. The victims were executed in the Hartheim's gas chamber were mostly elderly, disabled, sick or concentration camp prisoners who could no longer work. AJW 10-4-02
http://www.ww2museums.com/article/4872/Castle-Hartheim-Extermination-Institution.htm
---
Helmsbrech
Reference is made of this camp in the book "Hitler's Willing Executioners". It was a satellite camp and was started in the summer of 1944 and housed women who worked in the Neumeyer Armaments firm.
http://www.historykb.com/Uwe/Forum.aspx/history/6616/Holocaust-Calendar-September-20
---
Holland Concentration Camps
www.cympm.com/concentration.html
---
Italian Camps
Fossoli
Created by the Mussolini government for use as a prisoner of war camp, it was used to detain political opponents and later, when the Nazis took control, Italy's Jews were brought here before being deported. During the seven months of 1944 that the German SS controlled the camp, eight trains left the station at Carpi, five of which went directly to Auschwitz-Birkenau. About half of the approximately 5,000 deportees at Fossoli were Jews. Further information may be available by
Email: to levchadash@libero.it
http://members.iinet.net.au/~gduncan/1943.html
---
Janowska
A concentration camp near L'vov and considered to be among the most brutal. Simon Wiesenthal was a captive here at one time.
http://www.deathcamps.org/occupation/janowska.html
---
Jasenovac
Located about 60 miles southeast of Croatia's capital of Zagreb. This is one of six camps that held Jews, huge numbers of Serbs and Gypsies who were slaughtered by the Ustashe.
http://www.ushmm.org/wlc/en/article.php?ModuleId=10005449
---
Kaluga (Estonia) (Klooga)
Most of the prisoners at this labor camp were executed on September 19, 1944, a few hours before the camp was liberated by an armored force of the Red Army. See my Estonia page for additional information.
http://rt.com/news/nazi-occupation-survivor-kaluga/
http://ww2db.com/event/today/1/15/
---
Lager Poperwahlen Forced Labor Camp
Located in Latvia
http://www.jewishgen.org/yizkor/Popervale/Poperwahlen.html
---
Le Vernet (France)
Located near Pamiers in Ariege, it was used to detain some 12,000 Spanish combatants from il Durruti Division. In 1940, it became a camp to intern foreigners, anti-fascist intellect, members of the International brigades and Jews arrested in the region. In June 1944, the last of the internees were evacuated and deported to Dachau in the "Ghost Train."
http://www.ariege.com/histoire/levernet/info.html
http://www.ariege.com/histoire/lahille.html
---
Loslau
Reference is made of this camp in the book "Hitler's Willing Executioners".
http://www.traveljournals.net/explore/germany/map/m2524924/loslau.html
http://www1.yadvashem.org/education/entries/english/11.asp
---
Majdanek
Located about 2 miles outside of Lublin, Poland and literally backs up to back yards of nearby homes. Three hundred and sixty thousand souls were killed here. This camp is second only to those located in Treblinka and Oswiecim. The city of Lublin literally ends at the gates of this killing center. On May 11, 1942, for the first time, a transport of Jews, 400 men from Terezin, was sent to this camp.
On May 15 - 30, "Family transports" from Slovakia arrive in the Lublin district of occupied Poland and are sent to Majdanek.
On November 3, 1943, 18,400 Jews were murdered. Today, it is a national museum. The gassing operation began in October. Evidence of the devastation is nearby: the victims' ashes, and a roomful of children's shoes.
Majdanek was the first large Nazi concentration camp to be liberated by the Soviet army. In July 1944, in the face of the Red Army's advance, Majdanek was liquidated, and about a thousand prisoners were taken away, half of them reaching Auschwitz. Before abandoning the camp, the staff destroyed documents and set fire to the buildings and the large crematorium, but in their haste to withdraw, the Germans failed to destroy the evidence of the crimes committed: gas chambers, crematoria, supplies of Zyklon B gas, collective graves, shoes and clothing of the victims and several camp buildings.
On Lublin's outskirts, the smokestacks of Majdanek poured human ash into the sky. Inside the camp, Jews were detained without food and water in a field where, as a final act of defiance, they buried their valuables to keep them from the Nazis. Sixty-three years later, the survivors direct excavations at the field. There is a documentary that was produced by Matt Mazer and directed by Steven Meyer.
http://www.buriedprayers.com
A description of a visit to this camp, after WWII by David Zabludovsky
http://www.zabludow.com/yiskor7DavidZabludovsky.html
http://www.scrapbookpages.com/poland/majdanek/Majdanek.html
http://www.cympm.com/majdanek.html
Ira Block posted on 1/30/07 "I recently emailed requested photos from the following shuls/cemeteries. If anyone wants copies of Majdanek just send a request via email to irablock@gmail.com
---
Mauthausen
Located 2 hours west of Vienna, just off the main highway and railway line. It was the largest concentration camp that the Nazis built in Austria. The camp was opened in 1938 to house political prisoners originally, but more and more Jews were interned there. Of the 200,000 prisoners interned here from 1938 to 1945, half died, mostly from forced labor. There are still several original buildings which house a museum: Phone 43 7 238 2269
http://www.mauthausen-memorial.at
A video of the Nazi concentration camp Mauthausen, located in Austria during the Holocaust period is available
www.nizkor.org/hweb/camps/mauthausen/Mauthausen-00.html
During the chaotic closing days of WW II, 18 Hungarian Jews were marched through Austria on their way to Mauthausen. Bivouacked in a barn, they attempt to preserve their humanity by playing and singing "Wiener Blut." Elisabeth Scharan has created a film about this event.
http://mubi.com/films/in-another-lifetime
http://genevaanderson.wordpress.com/2011/07/29/film-review-elisabeth-scharang%E2%80%99s-%E2%80%9Cin-another-lifetime%E2%80%9D-an-austrian-period-film-of-operetta-and-audacity-premieres-at-the-31st-san-francisco-jewish-film-festival-july-21/
http://www.jewishvirtuallibrary.org/jsource/Holocaust/mauthtoc.html?utm_source=AICE+email+%2340+%28May+2%2C+2013%29%3A+Syria+myth&utm_campaign=AICE+e-newsletter+%2340%3A+%28May+3%29&utm_medium=email
The Nazis murdered more than 100,000 people there before the U. S. Army liberated the camp on May 9, 1945. A cavalry patrol of the 11th Armored Division liberated the death camp complexes of Gusen and Mauthausen on May 5, 1945. The soldiers returned with 1,800 German prisoners, to the surprise of their commanding officers. The U.S. troops then provided medical assistance to the starving camp inmates and buried thousands of victims of the Nazi murderers. A history of the amazing exploits of the 11th Armored Division can be found at:
www.11tharmoreddivision.com
---
Natzweiler Struthof Concentration Camp

http://commons.wikimedia.org/wiki/File:Natzweiler-Struthof.jpg
Natzweiler-Struthof was a German concentration camp located in the Vosges Mountains close to the village of Natzweiler (German Natzweiler) in France, and the town of Schirmeck, about 50 km south west from the city of Strasbourg
https://en.wikipedia.org/wiki/Natzweiler-Struthof
---
Nizkor Project
A collection of Holocaust memorial and anti-revisionist projects
---
Pinsk Records from the Soviet Extraordinary Commission
Compilation of testimonials about 11,704 Holocaust victims from Pinsk.
Holocaust Database
http://www.jewishgen.org/databases/Holocaust/
---
Plaszow

http://www.ushmm.org/wlc/en/article.php?ModuleId=10005301
A German concentration camp located a mile away from the town of Podgorze in Poland. There is one large monument and one small monument. Other than that, the land is grassy and hilly, with no other proof of its former existence. As posted by Linda Volin
http://www.holocaustresearchproject.org/othercamps/plaszow/plaszow.html
---
Poniatowa

Jewish workers arriving at Poniatowa
The hideous Forced Labor Camp, where part of the remnants of the Warsaw Ghetto was deported to. The incredible and forgotten fact about this camp is that also there, under impossible conditions, the prisoners organized an underground and resisted the Nazis in the final liquidation of the camp.

60 years later and in the outskirts of the peaceful town Poniatowa in Poland, stand 6 memorials to commemorate what happened there in W.W.II. No mention of a the Jews on neither of the monuments.
poniatowa.htm
http://www.holocaustresearchproject.org/othercamps/poniatowa.html
---
Popervale (Poperwahlen, Dondangen), Latvia
Manuscript on the forced labor camp KZ-Lager Poperwahlen, Latvia
http://www.jewishgen.org/yizkor/translations.html

http://www.jewishgen.org/yizkor/Popervale/Poperwahlen.html
---
Ravensbrück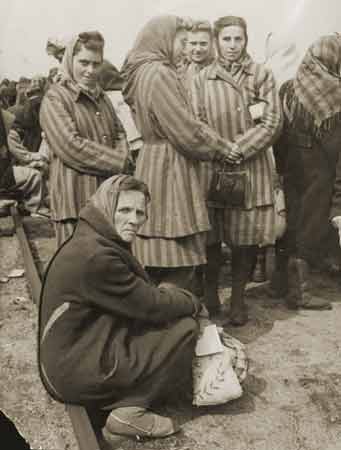 Prisoners released from Ravensbrueck - April 1945
In November 1938, in the Prussian village of Ravensbrück, near the former Mecklenburg health resort Fürstenberg, the SS had prisoners from Sachsenhausen Concentration Camp and elsewhere build the Ravensbrück Women's Concentration Camp. It was the only large concentration camp on German territory designated for women. In the spring of 1939, the first 1,000 female prisoners were transferred from Lichtenburg Concentration Camp to Ravensbrück. In April 1941, a camp for men was joined to the camp for women. By the summer of 1942, the Uckermark Youth Concentration Camp was also located very close by
http://www.ravensbrueck.de/english/frauen-kz/index.htm
http://www.jewishvirtuallibrary.org/jsource/Holocaust/Ravensbruck.html?utm_source=AICE+email+%2341+%28May+14%2C+2013%29%3A+Jerusalem%2C+China-Israel%2C+Archaeology%2C+IsCal&utm_campaign=AICE+e-newsletter+%2341%3A+May+14&utm_medium=email
At the Ravensbrück women's concentration camp, the SS kept imprisoned more than 132,000 women and children, but also 20,000 men. Between 1939 and 1945, tens of thousands of them, coming from more than 40 nations, were killed. Today Ravensbrück Memorial Museum keeps traces and records, enhances remembrances and research, and creates a place of active learning and encounter. If you can read German, though it may be Dutch, this site contains quite a bit of information, photos and names. Start with the Home page - (German)- click on the name 'Ravensbrück' and then look around.
http://www.ravensbruck.nl

The Ravensbrück Memorial Center
(English/German) - a work in progress is "Gedenbuch Ravensbrück", a listing of the data of all victims imprisoned in this camp based on all data available.
http://www.ravensbrueck.de/

"Juedische Frauen im Konzentrationslager Ravensbrück 1939 bis 1945"
("Jewish women in the Ravensbrück concentration camp 1939 to 1945") - a scientific research work authored by Prof. Claudia Ulbrich and PD Dr. Sigrid Jacobeit (Chief of Mahn-und Gedenkstaette Ravensbruck). A copy is available in MS-Word file/Acrobat. PDF)
"Kalendarium der Ereignisse im Frauen-Konzentrationslager Ravensbrück 1939-1945"
Authored by Grit Philipp and Monika Schnell and published in Berlin in 1999 by Metropol which is a diary of the events in that concentration camp, similar to the one of Danuta Czech on Auschwitz
ISBN 3932482328
A list of persons at Ravensbrück may be obtained by writing"
Amicale de Ravensbruck
10, rue Leroux
F 75116 Paris
---
Riebnig
Many elderly Jews were deported from Breslau and other places in Niederschlesien. There is a book available with approximately 1,800 names: "Tormersdorf, Gruessau, Riebig" (Obozy Przejsciowe dla Zydow Dolnego Slaska z lat 1941-1943) authored by Alfred Koniczny and published by Wydawnictowo Uniwersytetu Wroclawskiego in 1997 in soft back
ISBN 83-229-1713-9
http://www.kreis-landskron.de/orte/riebnig/
---
Rottleberode
A sub-camp of Buchenwald, is located north of Nordhausen
http://www.edwardvictor.com/Holocaust/Rottleberode.htm
http://en.wikipedia.org/wiki/Rottleberode
http://www.sawmilldatabase.com/sawmill-info/rottleberode-sagewerk
---
Sachsenhausen
On May 5, 1942, eighty-one Dutch Jewish political prisoners are shot at this concentration camp.
http://www.jewishgen.org/ForgottenCamps/Camps/SachsenhausenEng.html
http://www.scrapbookpages.com/EasternGermany/Sachsenhausen/
http://www.ushmm.org/wlc/article.php?ModuleId=10005538
http://www.jewishvirtuallibrary.org/jsource/Holocaust/Sach.html
http://www.nizkor.org/ftp.cgi/camps/sachsenhausen/
http://www.zchor.org/sachsenhausen/sachsenhausen.htm
---
Sajmiste Camp
The Belgrade Fair exhibition ground was once described as "the forgotten concentration camp" - the Sajmiste camp that the site was turned into during WW II by the occupying Nazis. All 8,000 Jews from Belgrade, Yugoslavia, as well as Jews from Austria and Czechoslovakia had been transported to gassing trucks and murdered at the site. Most of these were women and children, as thousands of men had been shot dead earlier. None of the Jews sent to the camp survived. It was located across the Sava River from the bus and train stations in a part of Belgrade now called New Belgrade and there are still remnants for one to see including the camp's guard tower and a portion of the barracks. A large memorial was erected on the Sava river bank in memory of Sajmiste's 40,000 victims, which also included Serbs and Roma.
Sajmiste
Destroyed by U.S. bombers in raids that killed 80 people at the camp and injured 170. The bombers' intended target was the nearby railway station.
What made this camp unique was that because of its location it was in clear view of Belgrade's residents.
---
Books

"The Jews in Belgrade"
Authored by Aleksandar Mosic.
http://en.wikipedia.org/wiki/Staro_Sajmi%C5%A1te
---
Salaspils concentration camp
Located in Latvia and about half hour drive from Riga - which is available to visit. There is a list of about 30 Lithuanian Jews who died immediately after the war.
http://www.logon.org/_domain/holocaustrevealed.org/Latvia/Latvian_Holocaust.htm
---
Schlesiersee
Once was one of four camps for women which were erected along the lower Silesian border in October and November, 1944. It was a relatively small camp containing about 1,000 women who had come from Auschwitz and is mentioned in Daniel Goldhagen's book "Hitler's Willing Executioners".
http://www.sztetl.org.pl/en/article/zielona-gora/13,places-of-martyrology/1068,work-camp/
---
Sobibor Death Camp
One of three euthanasia sites built after the Wannsee Conference of June 20,1942 was opened on May 7, 1942 for the gassing of Jews. Information about the death camp that existed during WW II in which about 260,000 Jews were killed. The camp was closed after 300 prisoners overpowered guards and staged a heroic escape. Many were captured and shot. 'Escape from Sobibor' with Alan Arkin was made as a TV movie. There is a database of names at
http://www.snunit.k12.il/sachlav/dutch/maineng/search.html

http://home.wirehub.nl/~mkersten/shoa/sobibor.html
http://www.us-israel.org/jsource/Holocaust/Sobibor.html
http://www.us-israel.org/jsource/Holocaust/Sobibortoc.html
The New York Times carried an article about Chaim Engel who helped carry out a group escape from this death camp, hoping to save himself and his future wife.
10ENGE.html-ex=1058898980&ei=1&en=2578a249f86de4b6
All traces of the camp were eradicated by the Nazis after the attempted escape.
---
Strasshof Concentration Camp
"Located outside of Vienna. This concentration camp, retained almost 21,000 Jews in June 1944 from Hungary were brought to Strasshof as a result of an agreement made between senior SS officer Adolf Eichmann and the leaders of the Relief and Rescue Committee of Budapest. This agreement came about in mid-June 1944, when Eichmann offered to put 30,000 Hungarian Jews "on ice" in Austria, as a gesture of his good will in order to help facilitate the exchange offer he had made called "Blood for Goods." According to the "Blood for Goods" offer, Eichmann was to spare "one million" Hungarian Jews in exchange for certain goods, including 10,000 trucks. The deal ultimately failed; but while it was still a possibility, five million Swiss francs were paid to the SS in exchange for the 21,000 Jews sent to Strasshof. They were transferred from the ghettos of Baja, Debrecen, Szeged, and Szolnok, and made to work as forced laborers in industry and agriculture in eastern Austria. Almost all of the Jews at Strasshof, including old people and children, survived the war"
http://www1.yadvashem.org/odot_pdf/Microsoft%20Word%20-%206049.pdf
http://www.irenemuskal.org/1009.asp
---
Stutthof Concentration Camp
Crew of the Konzentrationslager Stutthof (67 828 jednostek archiwalnych)

This is formed by the office files of the camp created during its existence in the years 1939-1945. During the managing of the archive, the method of recreating the internal organizational structure of the camp was used.
Department I- Kommandantur (headquarters)
Department II- Politische Abteilung (political department)
Department III- Schutzhaftlager (camp)
Department IV- Verwaltung (administrative and economic department)
Department V- Lagerarzt (camp doctor)
Department VI- Schulung (training of the crew)
Economic Plants of the SS
http://stutthof.org/english/node/73
The Stutthof Concentration Camp was the first Nazi camp built outside of Germany and was the last camp liberated by Allied forces. It lies 34km outside Gdansk and was the place of death for 85,000 people according to official figures, although the actual number killed is assumed to be much greater. Originally a small prison for Poles and P.O.W's, the camp would become the site of some of the worst atrocities of the war.

Between 1939 and 1945, 127,000 prisoners were officially registered in the camp, but those who were immediately singled out for execution were not registered at all, so there is no way of knowing the exact number of people brought to Stutthof. The camp was managed by an SS officer named Max Pauli, who would later be sentenced to death for the crimes committed here.
Fifteen thousand children under the age of fifteen passed through the Terezin Concentration Camp. Fewer than 100 survived
Martin Bergau published a book on the murdering of about 3.000 Jewish prisoners from the Stutthof concentration outpost in East Prussia who were murdered before the Soviet Red Army could liberate them. This story has now been told for the first time after more than 60 years.

The author, who was 16 in 1945 was a witness to the murder of prisoners at the Stutthof out camp in East Prussia who were sent on a death march by the SS and murdered in the then East Prussian place Palmnicken (today it is called "Jantar'nyj") when the Soviet Army approached. They were shot on the beach or sent out on the ice of the Baltic. More details are recounted by witnesses and survivors. There were only 15 survivors who were hidden by few, others were found by fanatic inhabitants who would have to flee soon themselves.

Documentation of former inmates

This collection contains document materials that concern the inmates of Stutthof, however, they do not belong to the files of the KL Stutthof crew.
They were organized with the following outline:
Legal correspondence: post cards, letters written by the inmates to their families and mail coming into the camp.
Illegal correspondence: secret letters written in Stutthof.
Camp resistance movements: lyrics of poems, songs, prayers and pictures created by the inmates.
Other materials concerning inmates: different documents not created in the camp, such as birth certificates, identity cards of the Society of Fighters for Freedom and Democracy (ZBoWiD), etc.
http://stutthof.org/english/node/73

The following names of Jewish prisoners appear in the book, most of them with witness accounts (with page number in brackets):
BLITZ, Maria (35-41)
FEDER, Alta (12-13, 139-140)
FRIEDMAN, Ester (15-16)
HAUPTMANN, Dora (147)
KLAJNMAN, Fryda (130-132)
KRONISCH, Pnina/Pola (129-130)
LONICKI, Bluma (14, 134-136)
MANIELEWICZ, Zila (13-14, 120-129)
MUELLER, Regina, maiden name LIBERBAUM (140-141)
MULLER, Zysla, maiden name LIBERBAUM (140-141)
OJZEROWICZ, Chana (10-12, 132-134)
ROTH, Irmgard, maiden name GLAUS (136-137)
ZWARDON, Pola (137-138).

The book is in German. Its title is
"Bergau, Martin: Todesmarsch zur Bernsteinkueste: das Massaker an Juden im ostpreussischen Palmnicken im January 1945 - Zeitzeugen erinnern sich."
Heidelberg: Winter, 2006. Euro 19.
ISBN 3-8253-5201-3.
(Translation of the title: Death March to the Amber Coast: the massacre on Jews in the East Prussian Palmnicken in January 1945 - Witnesses remember). The German weekly "Die Zeit" printed a review of this book in its No 10 of March 1 (2007) of the book which is still accessible (2012). From a posting by Fritz Neubauer
http://www.zeit.de/2007/10/P-Ostpreussen-BiG

German Jews List Database
http://jewishgen.com/
According to the July 1949 edition of the
"Catalogue of Camps and Prisons in Germany and German-Occupied Territories",
Stutthof maintained the following Sub-Camps:
Bocion - Bottschin
Bromberg - Bydgoszcz
Brusy - Bruss
Chorabie - Kiobia
Cieszyny - Cieszyn
Danzig - Gdansk
Elbing - Elbag
Garzcyn - Gartschin
Gdynia - Gdingen - Gotenhafen
Grodno
Gutowo
Gwizdziny - Gwisdzyn
Kokoszki - Kokoschken
Krzemieniewo
Lauenburg - Lebork
Malki - Malken
Mierzynek
Niskie Brodno
Pruszcz - Praust
Sophienwalde
Stagorod - Preussisch Stargard
Stolp - Slupsk
Szerokopas - Scherokopas
http://www.gdansk-life.com/poland/stutthof-concentration-camp
Stutthof Museum
Information is available concerning the Stutthof camp. Write to:
Muzeum Stutthof
Dyrektor Mrs. Janina Grabowska-Chatka
Ul. Muzealna
6 82 - 110 Sztutowo
Woj. Elblaskie 0276110
Poland
http://stutthof.org/english
---
Terezin (German = Theresienstadt)


Theresienstadt Concentration Camp Entrance
Czech Republic is the location of the former infamous concentration camp which had been passed off as the "model ghetto" by the Nazis. 11,000 to 15,000 children were held in the camp between 1941 and 1945. Terezin was originally built as a fortress over 200 years ago. It is located near the German border about 30 miles northeast of Prague. At its peak, it held 59,000 prisoners. More than 30,000 Jews died at this Czech transit camp. An estimated 140,000 Jews were sent to Terezin and 33,430 died there. About 88,000 were moved on to Auschwitz and other death camps, where most of them were killed. Fewer than 20,000 were freed when the notorious camp was liberated by the Soviet army in May 1945
Alice Herz-Sommer, believed to be the oldest-known survivor of the Holocaust, died Sunday, Feb. 23, 2014 morning in London at age 110, a family member said. Herz-Sommer's devotion to the piano and to her son sustained her through two years in a Nazi prison camp, and a film about her was nominated for best short documentary
http://www2.nationalpost.com/m/wp/blog.html?b=news.nationalpost.com/2014/02/23/alice-herz-sommer-worlds-oldest-holocaust-survivor-dies-in-london-at-age-110
On June 10, 1942, a special "penal transport" of 1,000 Jews was sent from Prague to Poland in reprisal for Heydrich's assassination.

Terezin became the temporary sanctuary (transit camp) for Jews from throughout Europe who were told that they could 'sit out' the war safely, only to die in gas chambers or ovens of Auschwitz, Bergen-Belsen, etc.. The town itself was changed into a Ghetto - a concentration camp for Jews - in November, 1941.
http://www.scrapbookpages.com/czechrepublic/theresienstadt/theresienstadtghetto/
ghettotour/Tour02.html
Caroline Sturdy, with the University of Birmingham, using ground penetrating radar, discovered that the former encampment contains a huge mass grave in spite of what a group of Holocaust deniers who claimed that the camp was merely a transit rather than a death camp. From the World Jewry Digest of April 2012.
http://www.wjcfoundation.org/
Web site for Beit Theresienstadt at Kibbutz Givat Chaym Ichud, a monument, museum, archives, and educational center dedicated to documenting the history of the Theresienstadt ghetto (also known as Terezin) Includes information on how to request a fee-based search of a database with the names of nearly 150,000 ghetto prisoners and provides full-text access to the Theresienstadt Martyrs Remembrance Association's newsletter.
The postal address:
Theresienstadt Martyrs Remembrance Association
Givat Chaim-Ichud
38935
Israel
http://www.porges.net/TableOfContents.html
http://www.ushmm.org/research/library/weblinks/?content=ghettos
http://www.zchor.org/CZECH.HTM
http://www.ynet.co.il/english/articles/0,7340,L-3388582,00.html
---
Books
"Fate Did Not Let Me Go"
Authored by Valli Ollendort is a loving farewell letter to her son Ulrich, who had reached safety in America with his wife. Valli knew her fate and perished in the camp. Published by Terra Entertainment 1 310 268 1210
---
"Mendel Rosenbusch, Tales For Jewish Children"

Authored by Hans and Ruth Fisher; illustrated by P. John Burden. Resurrected from the shadows of Theresienstadt and the ashes of Auschwitz, the authors rediscovered this childhood favorite of theirs in 1998.
http://www.bunimbannigan.com
---
"Ghetto Theresienstadt"
Authored by Zdenek Lederer
---
"The Fuehrer Gives The Jews A City"
("Der Fuehrer Schenkt den Juden Eine Stadt") is a documentary showing happy Jews in a Jewish city made by the Nazis in the summer of 1944. Shortly after, the majority of the "actors" were sent to Auschwitz.
http://www.jewishfilm.com/jz16.html
---
"Prisoner of Paradise"
The Nazis drafted actor, director and cabaret star, Kurt Gerron, who was among the German Jewish artists of the 1920s, to make this film about a ludicrous propaganda film depicting Theresienstadt as a vacation resort.
www.allianceatlantis.com
---
"Theresienstadt family camp"
Was part of Auschwitz camp. Its name comes from the fact that in September 1943, a lot of Czech Jewish families coming from Terezin (Theresienstadt) were sent there. When you search on the Web and type "Theresienstadt", you will read different articles showing unfortunately, the fate of the children in that camp was often different from the adults'. Moreover, in all the transports of deportees, even if the statistics say that "all those on this transport from... were given numbers and taken to...", you must except the numerous ones who died in the cattle carriages in dreadful conditions. Nobody will ever know either the right number or their names. Eve Line Blum-Cherchevsky Besancon (France) and also Cercle de Genealogie Juive (International JGS in Paris) in a posting
http://www.genealoj.org
---
Research
List of Czech inmates of Theresienstadt (Terezin)
Who were alive in the camp when it was liberated
http://www.jewishgen.org/yizkor/translations.html
---
A little known fact about this camp is that there was a "hidden Synagogue" in a wine cellar in the camp." My friend, Robert W. Case sent me a photo dated August 2000, but unfortunately, I have lost the print.
http://history1900s.about.com/library/holocaust/aa012599o.htm
Tourstoprague
A commercial travel agency has an interesting, as well as informative site at
http://jewish.tourstoprague.com/main/terezin/

Scroll down this site and you will find information about 'The Ghetto Museum' (the former school that served during the war as a boy's home); 'The Magdeburg Barracks' - a seat of the Council of elders and the Jewish self-administration where you can see a replica of a dormitory of the time of the ghetto: 'The Memorial by Ohre River' where the ashes of the perished prisoners (about 22,000) were thrown into the river by the Nazis in 1944 in order to destroy the evidence; 'The Jewish Cemetery and the Crematorium' which contains the mass and single graves of over 9,000 victims that died during the first year of the existence of the Ghetto. The Crematorium, built by the prisoners in 1942, burnt over 30,000 corpses.
Yizkor Book
"The Memorial Book for the Austrian Victims of Theresienstadt"
Check on their data ((in German) through the address - by clicking on "Projekte" and "Holocaust". The DOEW's database of over 62,000 Austrian victims of the Shoah
is searchable
http://www.doew.at/
http://www.doew.at/ausstellung/shoahopferdb_en.html
http://www.doew.at/service/archiv/content.html (In German)
---
Tormersdorf
Many elderly Jews were deported from Breslau and other places in Niederschlesien.
http://catalog.hathitrust.org/Record/003781819
---
Books
There is a book available with approximately 1,800 names:
"Tormersdorf, Gruessau, Riebnig" (Obozy Przejsciowe dla Zydow Dolnego
Slaska z lat 1941-1943".
Authored by Alfred Koniczny and published by Wydawnictowo Uniwersytetu Wroclawskiego in 1997 in soft back
ISBN 83-229-1713-9
---
Totenbuch Concentration Camp
Much information including name list from this Out-Station Braunschweig Schilstrasse
http://judaism.about.com/od/holocaust/a/its_badarolson.htm
http://www.vnnforum.com/showthread.php?t=35217
http://www.totenbuch-donauschwaben.at/totenbuch/en/history.php
---
Treblinka
One of three euthanasia sites built after the Wannsee Conference of June 20,1942 where over 870,000 victims, mostly Jews, were executed in the carbon monoxide gas chambers at this camp opening on July 23, 1942. Polish Jews from the Warsaw Ghetto were the first arrivals. It was located a few dozen miles outside of Warsaw. Today, it is called 'The biggest Cemetery of Polish Jewry'. Most of the victims were buried in vast pits, but later the bodies were disinterred and burned in open-air fires. No building or structure remains at Treblinka. The victims' bodies burned in pyres, their bones crushed and used as fertilizer.
http://www.us-israel.org/jsource/Holocaust/Sobibortoc.html

Toward the final stages of the existence of the camp, the bodies went directly from gas chambers to open-air burning, without the intermediate stage of burial. At this site you can read the story of the first witness in the Jewish attempt to hang a Ukrainian (John Demjanjuk) for crimes that he claimed he did not commit
http://www.ukar.org/arad02.shtml
http://cyberroad.com/poland/jews_ww2.html
The Radom Ghetto in Poland was liquidated on August 16-18; 18,000 Jews were deported to Treblinka; 1,500 who resisted deportation were shot on the spot; 4,000 Jews were put into a special slave labor ghetto.
The following are the countries whose Jews were deported to Treblinka (and other death camps): Austria, Belarus, Belgium, Bulgaria, Czechoslovakia, France, Greece, Yugoslavia, Germany, Poland, Russia.

The following are the towns whose Jews were deported to death in Treblinka (and other death camps, a partial list):
Adamow

Augustow

Baranow

Sandomierski

Bialystok


Bialobrzegi

Biala Podlaska

Biala Rawska

Bielsk Podlaski

Bledow

Blonie

Bodzanow


Bodzentyn

Bransk Brok

Busko Zdroj

Ciechanowiec

Ciepielow

Checiny

Chmielnik

Choroszcz

Czestochowa

Cmielow

Dabrowa Biala

Dobre

Druskienniki

Drzewica

Falenica

Garbatka

Garwolin

Glowno

Glowaczow

Gniewoszow

Goledziszow

Goniadz

Gorzkowice

Gora Kalwaria

Gowarczow

Grajewo

Grodno

Grodzisk Maz

Grodek Biala

Grojec

Indura

Ilza

Inowlodz,

Iwanska

Izavelin

Janow Podlaski

Jadow

Jalowka

Janow
Sokolski

Jasionowka

Jedlinsk

Jeziory

Jezow

Jedrzrejow

Kalisz

Kaluszyn

Kamiensk

Karczew

Kielce

Kielbasin

Kiernozia

Kleszczele

Klimontow

Knyszyn

Kock

Koluszki

Kolbiel

Koniecpol

Konstantynow

Konskie

Koprzywnica

Korycin

Kosow Lacki

Kozienice

Kremienica

Krynki

Kuflew

Kuznica Biala

Kunow

Kurzelow

Lapy

Lagow,

Laskarzew

Latowicz

Legionowo

Lida

Lipno

Lipsko Nad Wisla

Lisokovo

Lochow

Losice

Lodz

Lowicz

Ludwisin

Lukow

Lunna

Lyskow

Ludwisin Magnuszew

Magnuszew,

Makow Mazowiecki

Malkinia

Malogoszcz

Mariampol

Marianow

Michalowo

Miedzyrzec
Podlaski

Milejczyce

Minsk

Minsk Mazowiecki

Mlawa

Mniszew

Mogielnica

Mordy

Mosty

Mrozy

Mstibov

Mszczonow

Narew

Nasielsk

Nowy Korczyn,

Nowe Miasto Nad Pilica

Oblas

Odelsk

Opatow

Opoczno

Orla

Osiek

Ostrowiec

Ostrow Mazowiecki

Ostryna

Otwock

Ozarow

Pacanow

Parysow

Piaseczno

Piesk

Pionki

Piotrkow Trybunalski

Pinczow

Plock

Policzna

Poreba

Porozow

Porzecze

Porzovo

Pruszkow

Pruzhany

Przedborz

Przemysl

Porzecze

Przyglow

Przysucha

Przytyk

Pultusk

Radom

Radomsko

Radoszyce

Radzilow

Radzymin

Rajgrod

Rawa Mazowiecka

Rembertow

Ros

Rozan

Ruzhany

Sandomierz

Sarnow

Serokomla

Sedziszow

Sidra

Sieciechow

Siedlce

Siemiatycze

Siennica

Sienno

Skaryszew

Skarzysko - Kamienna

Skidel

Skiernewice

Slawatycze

Slupia Nowa

Sobienie Jeziory

Sobolew

Sochaczew

Sokoly

Sokolow Podlaski

Sokolka

Solec Nad Wisla

Sopockinie

Starachowice

Stanislawow

Staszow

Sterdyn

Stoczek P. Sokolowski

Stoczek Lukowski

Stopnica

Stromiec

Suchedniow

Suchowola

Sulejow

Suprasl

Svislocz

Szczekociny

Szczuczyn

Szrens

Szydlowiec

Swislocz

Tarczyn

Tarlow

Terespol

Tluszcz

Tomaszow Maz

Trzcianne

Ujazd

Volkovysk

Vilna

Volpa

Warka

Wasilkow

Wawer

Warszawa

Wegrow

Wierzbnik

Wiskitki

Wisznice

Wloszczowa

Wodzislaw

Wolanow

Wolkovysk

Wolomin

Wolpa

Wyszkow

Wyszogrod

Zabludow

Zawichost

Zarki

Zarnow

Zelva

Zelechow

Zwolen
More information in Ada Holtzman's web site (among others):
www.zchor.org/treblink.htm

Sorry no lists. Only names of the communities deported to immediate death in the gas chambers. There were no registration procedures - all deported Jews from the overcrowded cattle trains to death. Only very few were selected to slavery labor mainly in the killing industry, with life expectancy of some weeks. Communities liquidated in Treblinka - listed on Ada Holtzman's web site
treblink.htm
---
Books
"Despite Treblinka"
(A Pesar de Treblinka)
Authored by Uruguayan director Gerardo Stawsky - a documentary telling the story of escaping the gas ovens by being assigned to carry bodies, sort victims' belonging or cut hair. Produced by Universidad Ort Uruguay Email: gstawsky@jewishla.org
There is a Treblinka monument at Nachlat Icchak cemetery in Givataiin Israel
Ira Block posted on 1/30/07 "I recently emailed requested photos from the following shuls/cemeteries. If anyone wants copies of Treblinka just send a request via email to irablock@gmail.com
---
Trostenets (Maly Trostenets)
Fourth largest death camp after Auschwitz, Majdanek and Treblinka.
http://www.jewishvirtuallibrary.org/jsource/Holocaust/malytrostenets.html
http://www.jewishvirtuallibrary.org/jsource/Holocaust/malycampmap.html
http://www.fold3.com/page/110399086_maly_trostenets_extermination_camp/
---
Trutzhain
Memorial place Trutzhain, call 06691-710662 (whale-trust Burger). During the Second World War, Ziegenhain was home to a prisoner of war camp, Stalag IX-A (one of the French prisoners there François Mitterrand, later became President of France), and after the war, also to a displaced persons camp at the same facility. The camp is now the constituent community of Trutzhain. Some of the barracks still stand and have been converted into houses.)
http://www.memorialmuseums.org/eng/staettens/view/9/Trutzhain-Memorial-and-Museum
http://en.wikipedia.org/wiki/Displaced_persons_camp
---
Twilhaar
Jewish work camp , near Nijverdal in the province of Overijssel in the Netherlands. There is some further information about this camp, however in Dutch language
http://www.joods.nl/rubrieken/WO-II/artikel?nr=3533
---
Yaniv (Yanov) Concentration Camp
Located near L'viv, Ukraine
http://www.holocaust.kiev.ua/eng/seminarse/lviv.htm
http://www.waissa.com/en/Albums/Frontpage/Here_They_Are_Flying..._Flew..._Already_Gone
http://www.nysun.com/arts/persecution-in-war-and-postwar/63829/
A story about a Torah that was hidden from the Germans in this camp was published in the Sunday issue of the Los Angeles Times on November 16, 2008. The Torah is now in the possession of the Los Angeles campus of Hebrew Union College - Jewish Institute of Religion which is located near the USC campus. The Torah was brought into the labor camp in small pieces wrapped around the bodies of the Jewish inmates and after the war, was sewn back together. It was in the possession of a Jewish couple who brought it to the United States and was recently donated to the college.
Holocaust Information
(Continued)
Children Holocaust Survivors
One in 10 children survived the Holocaust, most in hiding.
A list of 2,500 files of Holocaust orphans from Poland between years 1936-1945 and who have lost their identity
http://english.gfh.org.il/children_with_lost_identity.htm
---
Cybrary of the Holocaust
Documents and pictures about the Holocaust
http://remember.org/
---
Database of Holocaust Victims
http://www.yadvashem.org/wps/portal/IY_HON_Welcome
---
Degendorf, Germany Displaced Persons Camp
It was liquidated when most of the camps were closed in 1948-49 and its inhabitants were sent to Israel. Most of the records were transferred to the regional office of the Vaad Ha Kehillot and eventually to the Jewish Agency Headquarters in Israel
http://www1.yadvashem.org/yv/en/exhibitions/this_month/january/16.asp
http://www.albionmich.com/history/histor_notebook/S_Camp.shtml
---
Diplomats Who Rescued Jews
http://casa-argentina.org/wallenberg/english/visaslife.htm
---
Directory of Holocaust Remembrance Around the World
http://www.chgs.umn.edu/Educational_Resources/Curriculum/Stockholm_International
_Forum/Task_Force_Report/2e/2e.html
---
Dr. Feng-Shan Ho
One of the first diplomats to save Jews by issuing them visas to escape the Holocaust. He was responsible for saving thousands (estimated at 18,000) of Jews in Nazi-occupied Austria in 1938 and 1939
http://www.vcn.bc.ca/alpha/DrHo.htm
---
Dormant Accounts at Swiss Banks
---
Eichmann, Adolph
The identification of Eichmann, who was found living in Buenos Aires, Argentina as Ricardo Klement,, was based on a draftsman's (Neomi Izhar) meticulous analysis of Eichmann's ears that matched Eichmann's ears as they appeared in his SS file photo. There were 67 Israeli's involved in the successful kidnapping (the operation's commander was Rafi Eitan) - from forgers and mechanics to pilots and the doctor who kept Eichmann sedated until his El-Al flight was in midair. His forged passport presented to Argentinean police was under the name of Zeev Zichroni who was supposedly a steward on the plane that also carried Abba Eban who knew nothing about Eichmann being on the same plane until it landed in Israel. He was prosecuted by Gideon Hausner, found guilty, hanged and then cremated with his ashes strewn over the Mediterranean Sea. We will never forget Hausner's famous accusation "standing with me here today are six million prosecutors"
http://www.nizkor.org/hweb/people/e/eichmann-adolf/
---
Executive Order 9547
http://www.jewishvirtuallibrary.org/jsource/Holocaust/order9547.html?utm_source=
AICE+email+%2340+%28May+2%2C+2013%29%3A+Syria+myth&utm_campaign=
AICE+e-newsletter+%2340%3A+%28May+3%29&utm_medium=email
---
Europe
American Military Government List of Jews in Concentration Camps
List of 987 survivors and victims (Germany, Hungary, Austria, Romania)
http://www.jewishgen.org/yizkor/translations.html
---
Exhibitions
United States Holocaust Memorial Museum - Life in Shadows: Hidden Children and the Holocaust tells the stories of dozens of children who were sent into hiding to escape death. Includes pictures, photos, letters, documents and other artifacts. Life in Shadows was on display at the USHMM in 2004.
http://www.ushmm.org/
---
Films
More than 100 films from Hebrew University's Steven Spielberg Jewish Film Archive are available online. The films deal with the Holocaust, Israeli history, Jewish life in pre-war Europe and many other topics at
http://www.spielbergfilmarchive.org.il
---
Forced Laborers in Bolekhov, Dobromil, Broshnev Osada, Wydoda and Skole.
A file of about 35 pages is being entered into a JewishGen database. Contact Joyce Field
jfield@jewishgen.org for further information.
Information about literature related to forced labor and links on the subject of WW II Forced Labor
http://www.us-israel.org/jsource/Holocaust/germancos.html
---
French Deportees
CDJC, Centre de Documentation Juive Contemporaine, Paris
http://en.wikipedia.org/wiki/M%C3%A9morial_de_la_D%C3%A9portation
http://www.genealoj.org/ENtexte/page17.html
http://www.deathcamps.org/reinhard/deportfrance.html
http://www.jstor.org/pss/261073
http://www.democraticunderground.com/discuss/duboard.php?az=view_all&address
=102x3742083
---
Genocide
Raphael Lemkin, a Jewish refugee from Poland, coined the word genocide in 1944 to describe what was happening in German-occupied Europe.
www.ushmm.org/continuingimpact
Holocaust
http://www.123exp-history.com/t/03764058609/
Oral History
www.ushmm.org/oralhistory
The British Library
has placed more than 440 hours of testimonials from Holocaust survivors on its website. In wide-ranging interviews, 66 Jewish survivors tell the stories of their lives in the ghettos and concentration camps, and describe how they made lives for themselves after the war
http://www.rumoatolerancia.fflch.usp.br/node/1619
---
Hitler Letter: A Letter That Changed The World
The Museum of Tolerance in Los Angeles has, on permanent display, the letter that Hitler wrote in 1919 arguing in pseudoscientific terms for the "irrevocable removal of the Jews".
http://www.museumoftolerance.com/site/c.tmL6KfNVLtH/b.4865925/k.83A7/Whats
_Happening_at_the_MOT.htm
---
Holocaust
Photographs (WARNING: Graphic Material)
Timeline of Jewish Persecution
What Makes the Holocaust Unique?
World War II: Table of Contents
The Nazi's
Persecution
Germany in World War II
German Business and the Third Reich
Biographies
World Reaction
U.S. Policy During World War II
World Response to the Holocaust
What We Knew and When We Knew It
Responsa Regarding Saving Yourself & Your Children in the Holocaust
Aftermath
Holocaust Assets & Reparations
Tracing Family Members Lost in the Holocaust
Simon Wiesenthal Center's "36 Questions"
http://www.jewishvirtuallibrary.org/source/holo.html
---
Holocaust Memorial Calendar
http://www.ushmm.org/remembrance/dor/calendar/
---
Holocaust Memorials
http://www.museumoffamilyhistory.com/whm.htm
www.museumoffamilyhistory.com/hmna-miami-beach.htm

www.museumoffamilyhistory.com/hmna-bklyn-hmp.htm
---
I G Farben
A synthetic rubber and petroleum plant opens at Monowitz, also known as Buna or Auschwitz III, using Jewish labor from Auschwitz I
http://www.ahrp.org/infomail/05/01/27a.php
---
Internment in French camps and deportations from France
On August 6, 1942, the deportation of foreign Jews from Vichy France begins with a transport to Auschwitz.
The databases are approximately 10 000 names so far, mostly foreign Jews from Poland, Austria and Germany The address of the search page is
www.jewishtraces.org/search.php

Here is a short description of the lists
Various lists 1939-1945
Lists of inmates in the camp of Borgo san Dalmazzo
Lists of inmates in the camp of St Cyprian
List of Jews from Belgium ( before May 10, 1940) deported from France, survivors in 1945 Jewish Résistants from Belgium
Various lists about French internment camps ( Rivesaltes, Les Milles, …)
Census of the Jews in Lyon 1941 ( census of 1943) in the " various list"
Census of the Jews in the Allier department

The project "Ordinary exile" presents the story of Austrian Jewish refugees in Europe
www.jewishtraces.org

Information from Manuela Wyler manuela@dorot.fr
Mémorial de la Shoah Website
The Mémorial de la Shoah Musée, Centre de Documentation Juive Contemporaine (Memorial to the Shoah Museum and Center of Contemporary Jewish Documentation) located in Paris has a website of interest to genealogists located at
http://www.memorialdelashoah.org

First it has a searchable database of
* Jews deported from France
* Jews killed in France
* persons executed or who died in the French internment camps
* Jewish resistance fighters who belonged to the network of the Jewish Combat Organization.

In the case of the Jews deported from France, provided are the date of deportation, place of deportation (usually Drancy or Pithiviers), destination (usually Auschwitz), convoy number and details about the individual including, when known, date and place of birth, maiden name, date of death and nationality. In most cases the page from the actual deportation list is displayed and can be saved. The search engine seems to have certain latitude in retrieving names. Searching for "Mokotow" retrieved persons named Mokotovitch.

It is also an educational site. From the home page only, under the "Archives and documentation" drop down menu, there is a topic "Guide to Archives/Selection of Archives" that has links to key Shoah sites on the Internet. Of greater interest might be the "Guide to Archives/Guide to European Guide to Shoah Archives" that provides links to Shoah archives in most countries in Europe. The site is presented in French or English. From a posting by Avotaynu.
---
Galicia (Region) Galicia
Chapters on districts of Kolomyia and Stryy from the dissertation Emergence of genocide in Galicia and resettlement transports to Belzec extermination camp - Galician Jewish Celebrities
http://www.jewishgen.org/yizkor/translations.html
Galicia and Bukovina War Refugees Directory
Based on an *initial* official registration with the authorities on arrival [first address and number of people in family group]. QED - there were 3 people in the MOSCISKER family group, so we have effectively confirmed the *3 os.* problem and any further *os* problems, if they arise again. Thus, the little word *os* can give us quite a lot of genealogical information! From a posting by Celia Male
http://www.avotaynu.com/nu/V09N16.htm
---
Galician Forced Laborers from Lvov
Data on 1,110 workers, from a collection of the L'viv State Archives.
Holocaust
http://resources.ushmm.org/hsv/source_view.php?SourceId=20623
---
German Reparations
http://www.greece.org/blogs/wwii/?page_id=764
---
German Jewish Records including Nazi Concentration Camp Records
On-line information about microfilmed reels and what they contain including lists of Jews deported from Germany and extensive material from concentration camp records, primarily from camps located in the US occupied zone of Germany, though there are records from other camps, as well. The microfilmed copies are now housed at the US National Archives (NARA) and the US Holocaust Memorial Museum (USHMM, Washington, DC) has a catalog of the 189 reels (about 189,000 frames or pages). Deportation lists from various cities are included, varying by city. The bulk, however, are concentration camp records, including arrival and 'departure' (releases, transfers and death) lists.
www.jewishgen.org/infofiles/CapturedGermanRecords.html
Some survivor lists are found, varying widely by camp, with large collections from Dachau and Buchenwald, and limited material on Gross Rosen. There are many lists of transfers to and from Auschwitz, Sachsenhausen, Ravensbrück and other camps.
Arolsen International Red Cross Records
Has been made public and they can be viewed at NARA in College Park, Maryland, or at the USHMM. If you have specific information, you may be able to get more information by sending an Email: to
james.kelling@nara.gov or by contacting USHMM at registry@ushmm.org
http://resources.ushmm.org/hsv/source_view.php?SourceId=20623
This story was aired on CBS on "60 MINUTES" ** about a long-secret German archive that houses a treasure trove of information on 17.5 million victims of the Holocaust. The archive, located in the German town of Bad Arolsen , is massive (there are 16 miles of shelving containing 50 million pages of documents) and until recently, was off-limits to the public. But after the German government agreed earlier this year to open the archives, CBS News' Scott Pelley traveled there with three Jewish survivors who were able to see their own Holocaust records. It's an incredibly moving piece, all the more poignant in the wake of the meeting of Holocaust deniers in Iran and the denial speeches in the UN. It is now more than 60 years after the Second World War in Europe ended. In memory of the six million Jews, 20 million Russians, 10 million Christians and 1,900 Catholic priests who were murdered, massacred, raped, burned, starved and humiliated with the German and Russia peoples looking the other way!
Meaning of information contained in the Arolsen Records:
CLI = Certified Legal Investigator
National Archives' Ardella Hall Collection
A collection of Nazi looted art is accessible on Footnote's Holocaust site. Additional Jewish records are in this collection and it is interactive which allows paid subscribers to add photos and data to a topic or create their own pages on the side. A sign-in is required
www.footnote.com/holocaust
Nazi Concentration Camp Records
http://www.fold3.com/page/110056803_nazi_concentration_camp_records/
---
Germany (Country)
The Reichsvereinigung der Juden in Deutschland (Confederation of Jews in Germany)
http://www.jewishgen.org/yizkor/translations.html
---
Ghettos
In 1941, there were 440,000 Jews confined behind the 10-foot walls of the Warsaw ghetto; hundreds died of starvation and disease. In October, 1942, the Jewish resistance groups in the Warsaw Ghetto formed the United Jewish Fighting Organization.
On October 3, 1942, the major phase of the "resettlement" (deportation) of the Warsaw Ghetto Jews is completed. By this date, approximately 310,000 people had been deported to Treblinka death camp. Only 30,000 Jews, mostly skilled workers, were allowed to remain in the ghetto.
Electronic resources on ghettos instituted by the Nazis to isolate the Jewish population. Historical Sites of Jewish Warsaw
http://jewish.sites.warszawa.um.gov.pl/wstep_a.htm

Guidebook of historical Jewish sites in Warsaw. Includes a timeline of important events regarding the Jewish presence in Warsaw and illustrated descriptions of fifty-four historic locations. Also features a map marking the streets and major buildings of the Warsaw Ghetto on the street grid of contemporary Warsaw. [Polish and English]
http://www.holocaustresearch.pl/index1(en).htm
---
Global Gazetteer
A great web site. It is a directory of 2,880,532 of the world's cities and towns, sorted by country and linked to a map for each town. A tab separated list is available for each country.
http://www.calle.com/world/
---
Guide to the Holocaust
This site includes original researched articles about the Holocaust; a weekly Email: newsletter; an on-line Forum for discussion, categorized and selected links to on-line resources for Holocaust information
http://fcit.usf.edu/holocaust/
http://history1900s.about.com/od/holocaust/tp/holocaust.htm
http://history1900s.about.com/od/holocaust/a/holocaustfacts.htm
---
Hannah Arendt Papers
The papers of the author, educator, and political philosopher Hannah Arendt (1906-1975) are one of the principal sources for the study of modern intellectual life. Located in the Manuscript Division at the Library of Congress, they constitute a large and diverse collection reflecting a complex career. With over 25,000 items (about 75,000 digital images), the papers contain correspondence, articles, lectures, speeches, book manuscripts, transcripts of Adolf Eichmann's trial proceedings, notes, and printed matter pertaining to Arendt's writings and academic career. The entire collection has been digitized and is available to researchers in reading rooms at the Library of Congress, the New School University in New York City, and the Hannah Arendt Center at the University of Oldenburg, Germany. Parts of the collection and the finding aid are available for public access on the Internet.
http://memory.loc.gov/ammem/arendthtml/arendthome.html
---
Hannah Senesh (Szenes)
The official site of the Hannah Senesh Legacy Foundation. It is about this courageous Jewish figure of WW II. Hannah was just 22 years old when she was sent on a mission to rescue Hungary's Jews during WW II. The poet and Haganah fighter parachuted behind enemy lines, was captured, tortured and ultimately executed by the Nazis. The story of her life (in English and in Hebrew), together with photographs and examples from her diaries and poetry is displayed here
http://www.hannahsenesh.org.il/
---
Holocaust Educational Foundation (HEF)
The Holocaust Educational Foundation is a private, non-profit organization established in 1980 by survivors, their children, and their friends in order to preserve and promote awareness of the reality of the Holocaust.
http://www.holocaustef.org/
---
Holocaust & Genocide Studies in the Ukraine
www.webster.edu/~woolflm/holocaust.html
http://en.wikipedia.org/wiki/The_Holocaust_in_Ukraine
---
Holocaust Glossary
Terms, Places and Personalities AKTION (German) Operation involving the mass assembly, deportation and murder of Jews by the Nazis during the Holocaust. Lots of holocaust information and well worth your visit
http://www.wiesenthal.com/resource/gloss.htm
---
Holocaust Index
Features links to holocaust sites including searching for relatives/survivors, curriculum resources and an historical summary
http://www.cs.washington.edu/homes/tdnguyen/Holocaust.html
---
Holocaust Links
http://www.holocaustresearchproject.org/links.html
---
Holocaust Memorial Center (Michigan)
6602 West Maple Road
West Bloomfield, Michigan
has a very rare copy of 'Gedenkbuch: Haeftlinge des Konzentrationslagfers Bergen-Belsen" published by Niedersaechsische Landeszentrale fuer Politische Bildung -- Gedenkstaette Bergen-Belsen' in 1995 and has 652 pages. The book lists 25,000 inmates at the death camp Bergen-Belsen
http://www.holocaustcenter.org/index.php?Itemid=1&option=com_magazine
---
Holocaust Museums
The United States Holocaust Memorial Museum
America's national institution for the documentation, study, and interpretation of Holocaust history, and serves as this country's memorial to the millions of people murdered during the Holocaust.
Visiting the permanent exhibition: Tickets are free but limited to ten passes per person. Passes are timed at 15-minute intervals between 10 a.m. and 3:45 p.m. and are available on a first-come, first-served basis. Museum members receive up to four passes upon presentation of their membership card. Start on the Fourth Floor for your self-guided tour. The Museum's three floor main exhibition, presents a comprehensive history through artifacts, photographs, films and eyewitness testimonies. Divided into three sections presented chronologically, it begins with life before the Holocaust in the early 1930s, continues through the Nazi rise to power and the subsequent tyranny and genocide, and concludes with liberation and the immediate aftermath of the Holocaust. For Group Reservations for the Permanent Exhibition, write or Email: USHMM/Scheduling Office,
100 Raoul Wallenberg Place, SW
Washington, DC 20024-2126
Phone: 202 488 6100; Fax: 202 488 2606;
email: group_visit@hshmm.org
The Center for Holocaust and Genocide Studies
University of Minnesota. An excellent site which includes a Virtual Museum, Educational Resources and Links & Bibliography
http://www.chgs.umn.edu/
DP Camp Lists
write to: Holocaust Memorial Museum
PO Box 10190 Silver Spring, MD 20914.
Another contact to email to is
Bob Wascou at robertw252@aol.com
http://www.Avotaynu.com
Florida Holocaust Museum in St. Petersburg
727 820 0100
http://www.flholocaustmuseum.org/
Holocaust Memorial Center - Bloomfield, Michigan
http://www.holocaustcenter.org/morris.shtml
Holocaust Museum - Houston
Telephone 713 942 8000
www.hmh.org
Imperial War Museum (London, England)
There is a permanent exhibit devoted to the Holocaust in the new, five floor wind, that occupies about 13,000 square feet of space on two floors.
Jewish Museum of Florida in Miami Beach
Sanford L. Ziff
05 672 5044
http://www.jewishmuseum.com
Museum of Jewish Heritage, New York
212 945 0039
http://www.mjhnyc.org/home.htm
Museum of the Jewish People
Tel Aviv
http://www.bh.org.il/
Museums and Remembrance
Web sites for Holocaust museums and remembrance organizations worldwide
http://www.ushmm.org/research/library/weblinks/right.htm#coll
Ukraine Holocaust Memorial Sites
Father Desbois is establishing the facts of a critical but less well-known chapter of the Holocaust by seeking an estimated 2,500 mass graves and killing sites of Ukraine Jews.
http://www.ushmm.org/desbois
United States Holocaust Memorial Museum
100 Raoul Wallenberg Place S.W.
Washington, DC 20024;
Phone Information (202) 488 0495
(202) 488 0400
Fax 202 488 2690
email: smiller@ushmm.org
http://www.ushmm.org/
United States Holocaust Memorial Museum
Hidden History of the Kovno Ghetto
Online exhibit by the United States Holocaust Memorial Museum based on artifacts and documents buried as a historical record by inhabitants of the Kovno ghetto in Lithuania. Includes many photographs, interactive exhibits, and a timeline.
http://www.ushmm.org/kovno/
The Museum prefers to be contact in writing, either by email Registry@ushmm.org or by mail to Survivors Registry,
U.S. Holocaust Memorial Museum
100 Raoul Wallenberg Pl. SW,
Washington, DC
http://www.ushmm.org/
The Registry handles 34,000 requests annually, and hundreds of people have been reunited through the Museum's 'Registry of Holocaust Survivors' efforts. Survivors can be registered posthumously, allowing people to confirm if someone they know survived the Holocaust, even if they are not alive today.
To protect the privacy of survivors and their families, the Registry is not searchable on-line. Survivors can provide as much, or as little, information as they desire about their lives before, during and after the Holocaust. Photographs are also accepted. Survivors' addresses and telephone numbers are not displayed in the Registry nor released without their consent. The database at the Registry contains information on about 180,000 survivors and their family members worldwide. Survivors can call 202 488 6130 or Email: registry@ushmm.org or visit the Museum's Web site
www.ushmm.org
https://mail.google.com/mail/u/0/#label/JWI/145050e51730f298
---
Holocaust Names
This site offers the ability to search the name list, memories, World Chat, Pictures and the ability to also add names
http://www.holocaustnames.com/index_us.html
---
Holocaust Remembrance Day
In an effort to help preserve the memory of the 12 million people, 6 million of them Jewish, who perished in the Holocaust, the Ancestry Daily News has set up a Web page with the following information at:
http://www.ancestry.com/dailynews/04_13_99.htm#4
---
Holocaust Research at Yad Vashem
http://www.projetaladin.org/en/yad-vashem-to-teach-turkish-academics-about-holocaust.html
International Institute for the Holocaust Research
PO Box 3477
Jerusalem 91034
Phone: +972 2 644 3480 Fax: +972 2 644 3443
Email: : research.institute@yadvashem.org.il
www.yadvashem.org
---
Holocaust World Resource Center
http://www.yadvashem.org/yv/en/holocaust/resource_center/
http://intraweb.stockton.edu/eyos/page.cfm?siteID=188&pageID=1
https://sites.google.com/a/kean.edu/holocaust-resource-center/
http://www.ushmm.org/research/collections/resourcecenter/
---
Holocaust Studies
Bernard and Rochelle Zell Center for Holocaust Studies - exhibition and educational resources relating to the destruction of European Jewry during WW II
http://www.spertus.edu/
---
Holocaust Survivors
In 1945, about 200,000 Jews survived the Nazi concentration camps and between 50,000 and 75,000 survivors found themselves in the Western occupation zones of Germany. Many of the non-Jewish refugees quickly returned to their former countries, but others, because of fear of the Soviet occupation or other considerations, refused repatriation. However, most Jewish displaced persons, including those who emerged from hiding places, or had been with partisan groups, found that returning to Eastern Europe was not in their best interest. Within weeks of liberation, more than 20,000 Jews died from disease and malnourishment.

A web site where you can read the stories of the survivors, hear them speak and look at their family photographs. You can also ask questions at the discussion page
http://www.holocaustsurvivors.org/
---
Holocaust Web Site
Created by Jennifer Rosenberg - has many links to other web links dealing with the many facets of the Holocaust.
http://holocaust.miningco.com
---
Hungarian Jewish Concentration Camp Survivors


http://www.scrapbookpages.com/auschwitzscrapbook/History/Articles/HungarianJews.html
http://www.jewishgen.org/databases/Hungary
---
IBM
"I've been to Auschwitz again, a few days ago. Something has catched (caught) my attention this time: all prisoner registration cards bore a stamp "Hollerith - erfasst" or "entered into the Hollerith-machine".

"You must know that Hollerith was the German representative of IBM, and it was responsible for equipping the Nazi authorities and all the KZs with modern, up-to-date data registration equipment, which in fact was produced by IBM, and only imported by Hollerith. According to the book you've mentioned, IBM exported some machines even after the outbreak of the war - until mid 1941.

I dare to understate that the Nazi extermination of our ancestors would by far not be that effective, wouldn't they have used modern IBM equipment for registration purposes. From a posting by G. Gembala Krakow, Poland
http://www.ibmandtheholocaust.com/
---
The Information Center for Holocaust Survivors in Israel"
This website is informative and easily navigated. There is a search facility where you can enter a name, and all compensation funds will be searched simultaneously-- insurance claims, property claims, etc.
www.claimsinfo.org
---
Jedwabne and Radzilow
A translation of an article by Krzysztof Persak of the Institute of National Remembrance (IPN) in Warsaw about the pogroms committed by Poles throughout the region of northeastern Poland during the summer of 1941 can be found at:
http://www.radzilow.com/tygodnik.htm
---
Jewish Family Research Association
This association was established in 2000 in Tel-Aviv. There is an English-language branch in Ra'anana in conjunction with ESRA and several more groups in formation. For further information, contact Rob Sealtiel, President tiigrs@matav.net.il
http://www.acronymfinder.com/Jewish-Family-Research-Association-(JFRA).html
---
The JewishGen Holocaust Database
A collection of 53 datasets, containing over 320,000 entries about Holocaust victims and survivors. It can be searched at
http://www.jewishgen.org/databases/Holocaust
Some of the files transcribed for the Holocaust Database are from files of the US Holocaust memorial Museum. The JewishGen Holocaust Database contains:
The Aufbau Database of over 33,000 Holocaust survivors
http://www.ushmm.org/online/hsv/source_view.php?SourceId=20774
American Military Government Compiled List of 987 Jews
Arrivals to Buchenwald on Jan. 22, 1945
Auschwitz-Sachsenhausen Transfers of 356 prisoners 11 27, 1944
Austrian Jews (800) in Concentration Camps
Bavaria, Muhldorf, - Deaths November 1944 - April 1945
Belarus, Pinsk Ghetto List, 1942 18,000 names from late 1941 or 1942
Brest Ghetto Passport Archive - over 12,000 names
Buchenwald Death List - 864 Polish Men 1939
Czech, Inmates at Bergen Belsen and Theresienstadt - 610 Jewish women liberated
Czech, Inmates at Bergen Belsen & Theresienstadt - 33 women
Czech, Inmates at Bergen Belsen & Theresienstadt - 445 Czech women
Czech, Inmates at Bergen Belsen & Theresienstadt - 384 Czech Jews still in Terezin on 2-5-1945
Czech, Prague - 1216 names of Children in Prague 1943-44
Confederation of Jews in Germany - 1662 names
Dachau Inmates - 2,800+ inmates
Dachau Concentration Camp Records - 37,000 prisoners
Jews who died at Dachau after Liberation - 555
Danish Deportees of over 400 Jews deported to Theresienstadt
Deportation of Bialystok Children from Theresienstadt - 1200 names
German Jews at Stutthof Concentration Camp
Germans, Swiss and Austrians deported from France 1942-44
Jewish Partisans and Fighters of Volyn - 822 names
Germany, Jewish Training Centers - 1800 names 1934-38
Germany, Jews (480) who died in Berlin, Jul 1943-Mar 1945
Germany, Temporary Passports 1938-1941
Hungary - Jews of Szombathely 1944 - 3,116 Jews in Vas County
Lithuania, Kovno Ghetto Cemetery - 1941-43 840 burials
Lithuania, Vilna Ghetto: Lists of Prisoners - over 15,000 from May, 1942
Norway Compilation on nearly 900 Norwegian Jews
Poland, Jewish Inhabitants of Krosno, Galicia, 3,298 names
Poland, Jews who resided in Krosno, Poland before 1941
Poland, Krakow Ghetto Database of over 19,000 Jews
Polish-German Children in Zabiczyn
Hungary, Jews in Debrecen, Hajdu County 4,000 names in 1944
Latvia, Riga - Extraordinary Commission Lists - over 2,000 individuals
Sachsenhausen - Arrivals & Departures 10-1940 to June 1941
Silesian Jews (73) in Mixed Marriages, Oct. 1944
Slovakia - Jews deported from Spisska Nova Ves - 1054 names
Sugihara Passports - 2,140 (mostly Polish Jews)
Ukraine, L'viv Ghetto Database of over 10,000 Jews
Ukraine, 5000 Borislav-Drohobycz Delinquent water bills
1941-42
Westphalian Jews - over 8,000 Jews and their fate
---
Jewish Memorial Center
The place to commemorate and remember forever, individual Jews from all walks of life, as well as Victims of the Holocaust.
http://www.jewishmemorialcenter.com/
---
Jewish People Finder and Jewish Memorial Center
An in-depth web site with lots of excellent links. Search and locate Jewish people globally. A service in English and Hebrew.
http://www.jewishmemorialcenter.com
---
Jewish World Center
Jewish global communities, directory, and an information center for everything Jewish worldwide.
http://www.jewishworldcenter.com/
---
KGB Lists In The Baltic States
Documents and Research
http://www.kgbdocuments.eu/index.php?1554678087
---
Kindertransport
Contact: L. S. Montague of the Jewish Refugees Committee, part of World Jewish Relief at:
The Forum
74/80 Camden Street
London NWI 0EG
Tel +44 (0) 7681; Fax: +44 (0) 7691 1780
Email: WJR1@WJR.org.uk

www.ariege.com
http://www.kindertransport.org/

http://www.nationalarchives.gov.uk/familyhistory/guide/migrantancestors/jewish.htm
http://www.thinkequal.com/page.cfm/link=56
http://www.ajr.org.uk/kindertransport.htm
http://www.imdb.com/title/tt0248912/
---
Kristallnacht
Inspired by Hitler's fanatical fascism, rioters pulled Jews from their homes, destroyed their belongings and beat some of them senseless, in a campaign of violence that the Nazis said was spontaneous but was in fact, cultivated and encouraged by the regime. A least 91 Jews were killed, and 30,000 were arrested and sent to camps in Buchenwald, Sachsenhausen and Dachau.
---
Klandorf
A quiet village of about 200 people is where a 'dump' was discovered in 2008 by Yaron Svoray, an Israeli writer. The 'dump' is described as a treasure trove of artifacts dumped there after the Kristallnacht and so far, he has discovered artifacts relating to Jewish home items i.e. pottery and porcelain items dumped here by the Nazis. Klandorf is about 40 miles north of Berlin.
The dump site sprawls across several acres, an uneven terrain of wooded copses and bushy ravines. The full story can be found in the November 16, 2008 issue of the Los Angeles Times.
---
Latvia
The Soviet Story
Watch a 10 minute trailer of a Latvian film made in 2008. There is an English narration with Polish subtitles superimposed on Latvian film. The film is quite explicit and very detailed.
http://www.rymaszewski.iinet.net.au/1holocst.html
---
Life in a Ghetto
Lili Susser's first hand account of her life in the Lodz Ghetto
http://www.zchor.org/testimon/susser5.htm
http://www.zchor.org/cukier/echo.htm
http://www.shtetlinks.jewishgen.org/lodz/susser.htm
---
Lithuania
The Holocaust in Lithuania
http://www.holocaustinthebaltics.com/11801.html
---
Lithuania (Country) Lithuania
The Vilna Ghetto was liquidated on September 23, 1943 in the Paneriai (Ponar) on the outskirts of Vilnius (about 10 kilometers). 70,000 Jews were murdered there.
There is still a Jewish community in Lithuania numbering 4,000. Vilnius (Vilna) once had a population that was 55 percent Jewish and at the turn of the century was called the 'Jerusalem of Lithuania'. That ended with a genocide beginning in the summer of 1941 that was finished, for most part, by November of the same year.
Pinkas Ha Kehillot
Encyclopedia of Jewish Communities from their foundation till after the Holocaust: Lithuania - The complete bibliography of the Works of Professor Dov Levin, 1945-2000 - "Yidishe Shtet, Shtetlach un dorfishe yishuvim in Lite: biz 1918: historish-biografishe skitses (Jewish Cities, Towns and Villages in Lithuania until 1918"
http://www.jewishgen.org/yizkor/translations.html
---
Maps
Map of Nazi Concentration and Death Camps
www.mtsu.edu/~baustin/holocamp.html
---
Military
Fold3.com, offers free access to their WWII collection. You will find records, documents, stories, and photos, plus you have the opportunity to add your own.
http://go.fold3.com/wwii/?iid=1239
---
Minsk, Belarus Memorable Gardens for Holocaust Victims
For information, contact Franklin J. Swartz eejhp@yahoo.com
http://www.youtube.com/watch?v=Lzmx-vCflos
---
Music of Remembrance
Seattle is home to "Music of Remembrance" an organization that performs music created in ghettos and concentration camps during the Holocaust. The musicians come predominantly from the Seattle Symphony and are joined by other leading artists. Performances take place twice annually at Benaroya Hall, home of the symphony, and often include lectures and discussions.
www.musicofremem brance.org
---
Names of Holocaust Victims
Many Holocaust victims go undocumented because no living family member remembers the names of these people. A typical comment is "My great-grandmother had two sisters who were murdered in the Holocaust with their families, but no one knows their names." As the Holocaust slips into history, there is an excellent source of these names: their birth and marriage records. Most countries make publicly available vital records 100 years after the event, sometimes earlier for marriage and death records. This means that today, family historians have access to the birth record of any Holocaust victim who was born before 1912—if the records exist
http://hmd.org.uk/resources/victims-names/list-of-holocaust-victims-names-for-reading

http://www1.yadvashem.org/download/remembrance/names2.pdf
http://resources.ushmm.org/hsv/person_search.php
http://db.yadvashem.org/names/search.html?language=en
http://www.geni.com/projects/Victims-of-the-Nazi-Holocaust/1318
---
Nazi-era Provenance of Art Objects
The search seems to be only by object.
http://www.nepip.org
The advanced search page is at:
http://www.nepip.org/public/search/itemsearch.cfm?action=itmdtlsrch&menu_type=search
---
New York State's Holocaust Claims Processing Office
New York State Banking Department
Holocaust Claims Processing Office,
2 Rector Street
New York, NY 10006
Phone (800) 695 3318, (212) 618 6983 (outside of US)
Fax: (212) 618 6908
http://www.claims.state.ny.us
---
Nizkor Project
A site dedicated to the nearly 12 million victims ruthlessly destroyed by Hitler and his Nazi regime. The site features collections of information about Holocaust - denial and the Holocaust
http://www.nizkor.org/
---
Nuremberg
This is an amazing project for those researching the Holocaust. The Harvard Law School library introduced the "Nuremberg Trials Project: A Digital Document Collection," a Web site where it plans to post 82,000 documents, totaling 650,000 pages, from the Nuremberg war crimes trials of 1946 to 1949. From a posting by Tom Venetianer
http://www.nuremberg.law.harvard.edu
---
Oral History
'Living Words: Voices of the Holocaust' Presented by the British Library. voices of the Holocaust consists of personal, oral testimonies gathered from Jewish men and women who came to reside in Britain. The testimonies are divided into six main categories - life before the Holocaust, ghettos and deportations, the camps, resistance, liberation and testimonies by Edith Berkin. This site serves as a compliment to the sixteen-volume set of typescripts of 70 interviews of Holocaust survivors conducted in 1946 by the Illinois Institute of Technology. Transcripts may be read or played using Real Player™
http://www.bl.uk/learning/index.html
---
Books
---
Orient (Dealing with the Holocaust)
See also my 'Orient' page
http://fleursdelorient.blogspot.com/2009/04/holocaust-remembrance-day-and-movies.html
---
Books
---
Pages of Testimony
Contains biographic details of the Holocaust victims and serves as symbolic tombstones. The Pages are submitted in memory of the victims by a family member or a close friend and is located at Yad Vashem, The Holocaust Martyrs' and Heroes' Remembrance Authority - click on the 'Remembrance' link and, as well, the other links on the page.
http://www.yadvashem.org/
---
Partisans Site
Search The Ghetto fighters' House database
http://partisans.org.il/Site/site.advsearch.en.aspx
http://www.partisans.org.il/Site/site.advsearch.en.aspx
---
Photos
Includes original photos from Germany during the Holocaust. Stephanie Comfort says: "On the back of most of them the 4 corners are black paper showing that they've been removed from the albums of Nazi families. They're the photos from the '30's and '40's with the serrated edges. I remember them as a child. I have around 100 - 150 of them. They're listed as: Original Holocaust Photos."
http://www.jewishpostcardcollection.com/holocaust/original-holocaust-photos/original
-holocaust-photos.html
---
Poland (Dealing with the Holocaust) See also my Poland page
http://www.holocaustresearch.pl/?l=a&lang=en
---
Poland - Zabiczyn,
Unpublished list of names of children without parents expelled from Germany to Zabiczyn
http://www.jewishgen.org/yizkor/translations.html
---
Poland - Zaglembia
Yizkor Book
Pinkas Zaglembia (Memorial Book of Zaglembia)
http://www.jewishgen.org/yizkor/translations.html
---
Polish Jews Poland
Some 80 percent of Polish Jews who survived the Holocaust did so because, in 1940, Stalin deported them to Siberian labor camps; on their release, they immigrated to Tajikistan and Uzbekistan. Information obtained from the Hadassah Magazine of November 2008. A documentary is available.
http://www.logtv.com
---
Polish Town List Poland
A translation from 'Jewish Communities destroyed in the Holocaust' by Avraham Klevan
http://www.jewishgen.org/Yizkor/
---
Przemysl, Poland
On the morning of July 26, 1942, at the bridge over the river San in Przemysl, a detachment of SS and police wanted to round up Jews from the ghetto for deportation to the Belzec extermination camp. Two German army officers, the town commander Major Liedtke and his deputy, First Lieutenant Battel, protected the Jews from being taken to their death by threatening to order their men to open fire unless the SS men retreated. Only one day before the bridge encounter, Battel had used army trucks to take Jewish workers and their families - 80 to 100 people - out of the ghetto and house them under direct military supervision. Both Battel and Liedtke have been honored in 1982 and 1993 by Yad Vashem, Israel as "Righteous among the Nations". Further information from Dr. Norbert Haase, Chief Historian, Saxony Memorial Foundation, Dresden, Germany haase@stsg.de
---
Puttkammer List
Compensation for the post-war restoration of securities rights, the Puttkammer List and the safe-deposit box expenses in the Netherlands during WWII
http://www.sie-sjoa.nl/en/index.html
---
Raoul Wallenberg
"Civil Collaboration, Spiritual and Cultural Heritage Fund Published by Interpressfact in Budapest
http://raoul.wallenberg.name/flash/
Home Page
http://www.casa-argentina.org/wallenberg/english/walldefauing.htm
---
Refuge and Rescue
Two complementary exhibits on the related themes of refuge and rescue at Vancouver Holocaust Museum
http://www.vhec.org/about.html
---
Refuge and Rescue
Two complementary exhibits on the related themes of refuge and rescue at Vancouver Holocaust Museum
http://www.vhec.org/about.html
---
Register of Jewish Survivors
"Pinkas HaNitzolim I
166 different lists of nearly 62,000 Jewish survivors rescued in various European Countries. Published in Jerusalem in 1945, by the Jewish Agency's Search Bureau for Missing Relatives.
http://www.jewishgen.org/databases/Holocaust/0064
---
Researching The Holocaust
An on-line resource which includes an extensive collection of photographs. The built-in search engine lets you research topics in related Holocaust sites, or throughout the web
http://remember.org
---
Rheinpfalz (Region), Germany
Reminiscences of Jacob Greenbaum, Sr., written for his children in 1859
http://www.jewishgen.org/yizkor/translations.html
---
Righteous Gentiles
Among the 18,000 Righteous Gentiles officially recognized by Yad Vashem, 4,000 are Dutch, by far the largest national contingent in Europe
http://www1.yadvashem.org/yv/en/righteous/about.asp
---

Photo from USHMM
The USHMM has over three million pages of documents in their archives. Museum scholars played a key role in writing a definitive history of the Holocaust in Romania, leading the Romanian government to admit the country's wartime complicity in murdering Jews, to establish a national Holocaust Remembrance Day.
http://www.ushmm.org/romania
---
Schindler, Oscar

http://en.wikipedia.org/wiki/Oskar_Schindler
Whenever a worker at the Plaszow work camp was put in direct peril, Oscar Schindler traded a black-market item for that worker's transfer to his factory. Here nobody was hit, nobody murdered and nobody was sent to death camps like the nearby Auschwitz
http://www.ushmm.org/wlc/en/article.php?ModuleId=10005301
Why did he help Jews? Why did he spend an enormous sum of money and risk his life to rescue 1,300 Jews in the shadow of Auschwitz?
http://home19.inet.tele.dk/aaaa/why/why.htm

Schindler's Factory
http://www.seetheholyland.net/historical-timeline/
http://pastparallelpaths.wordpress.com/author/ricbretz/
The German industrialist's list of more than 800 Jews - describe by the State Library of New South Wales as "one of the most powerful documents of the 20th century" -- was given to Australian author Thomas Keneally in 1980 by Leopold Pfefferberg, a Schindler survivor living in Los Angeles. It prompted Keneally to write his Booker Prize-winning work Schindler's Ark, which spawned Steven Spielberg's Oscar-winning film, "Schindler's List". The document had been languishing in the bowels of the library for 13 years until it was recently discovered by a researcher. The 13 pages of yellowed paper listing the names of Jews saved from the Nazis went on display in April 2009 at the library. The following link is to the list at Yad Vashem
http://en.wikipedia.org/wiki/List_of_Schindlerjuden
---
Leon Leyson
Leon was born September 15, 1929 and died in Los Angeles, California on January 12, 2013. He was the youngest person on Schindler's List. He helped educate students at Chapman University in Orange County, CA. Only after a LA Times reported sought him out after the Schindler's List film premiered in 1993, did Leyson begin to speak of what he and his family had endured. Leon came to the US, studied in Los Angeles and became a teacher for 39 years at a High School in the LA area. After retirement, he traveled around the US and Canada to educate young people by sharing his story of "little Leyson," as Schindler called him.
---
Search and Unite
David Lewin davidlewin@btinternet.com is running the small Search & Unite office out of London, attempting to help the many who suspect that, despite the passage of so many years since World War II, someone may still exist somewhere "out there". Click on the word unite and you will find his site.
http://remember.org/unite/
---
The Search Bureau for Missing relatives
of the Jewish Agency which was set up to assist in re-establishing contact between the Jewish survivors in Europe and their relatives in Palestine and in overseas countries, is issuing this second volume of the "Register of Survivors" which contains the names of 57,702 Jews who were found in Poland after its liberation.
http://www.jewishgen.org/yizkor/pinkas_hanitzolim/pinkas_hanitzolim.html
Missing Identity
http://www.missing-identity.net/
---
Sendler, Irena
A Catholic social worker who is credited with rescuing 2,500 Jewish children from the Nazi death camps. This occurred in the Warsaw ghetto in 1942 and 1943. Irena headed up the Zagota's (an organization of Poles who aided Jews in Occupied Poland) children's rescue mission. She was allowed into the ghetto by forged papers identifying her as a nurse to deliver medicine inside the ghetto. The Nazis were concerned about the spread of infectious diseases within the ghetto spreading outside. Sendler organized the effort to sneak the children to orphanages, convents, and private homes in the Warsaw region. Mrs. Sendler wrote down the names, and where the children were placed.
http://www.irenasendler.org/vid_wmv.htm

http://www.auschwitz.dk/Sendler.htm
---
Books
"Life In A Jar: The Irena Sendler Project"

Authored by Jack Mayer. The true story of a holocaust hero who rescued 2,500 Jewish children from the Warsaw Ghetto.
---
Shoah Foundation Institute Virtual History Archives
The USC Shoah Foundation Institute's Visual History Archive makes available over 52,000 video testimonies of Holocaust survivors
http://guides.lib.umich.edu/svha
---
Simon Wiesenthal Center
9760 West Pico Boulevard
Los Angeles, California 90035
http://motlc.wiesenthal.com/site/pp.asp?c=gvKVLcMVIuG&b=394659
Teacher's Resources
---
Skokie Holocaust Museum
The Museum features 2,000 recorded survivor testimonies, mostly from Chicago-area survivors, displays a Nazi rail car used to transport Jews to concentration camps and includes an exhibit for children along with a reflection room.
http://www.ilholocaustmuseum.org/
---
Slovak Transport List
There are some 20 reels of microfilmed cards. All of the filmed cards are from the first and biggest transport operation which the Nazis employed between March and October 1942, when 58,000 Jews were deported from Slovakia, mostly to Auschwitz.
http://www.jewishgen.org/databases/hungary/vranov.htm
http://en.wikipedia.org/wiki/List_of_Slovaks
---
Soviet Union
Chornaya Kniga (The Black Book)
http://www.jewishgen.org/yizkor/translations.html
A rare Soviet Archive that documents the heroism of Jewish Russian soldiers who fought against the Nazis in WW II is retained at the Museum of Tolerance in Los Angeles and is accessible to visitors in the Multi-Media Computer Learning Center on the second floor.
These rare materials were buried deep within the Soviet archives on the order of Josef Stalin who didn't want his countrymen to know that some 150 of the 500 most decorated Russian war heroes in WW II were Jewish. Colonel Faivel Sverdlov, a retired Soviet military officer had made contact with the Museum and facilitated the acquisition of some 150 individual photos and dossiers which document the heroism of the Jewish soldiers.
Photo Gallery of Nazi killings (in Russian)
http://holocaust.ioso.ru/gallery/index.htm
---
Spungen Family Foundation
In 2007, Danny Spungen, a collector and philatelist, on behalf of the Spungen Foundation, acquired arguably one of the best known collections of Holocaust materials related to stamps, covers, postcards, letters, bank note forgeries, and manuscripts from concentration camps & Jewish ghettos. Formally known as "The NAZI Scourge: Postal Evidence of the Holocaust and the Devastation of Europe," the Spungen Holocaust Postal Collection is available to the public, on the Foundation's web site
http://www.spungenfoundation.org/collection.html
---
St Louis Passenger List
The Holocaust Museum has a section of their website dedicated to the SS St. Louis.
http://www.ushmm.org/stlouis/

There is also a searchable index of those who were on board. There are also detailed stories of some of the survivors.
http://www.jdc.ort.org/pass/passa.htm

http://www.homeusers.prestel.co.uk/blchnr
---
Survivor Rate
The survival rate for Jewish adults in Nazi Europe was 33 percent; for children it was between 6 and 11 percent. In the countries that Germany occupied during WW II, there were 1.6 million Jewish children and between 1 and 1.5 million were murdered. In pre-war Poland, for example, there were about 1 million Jewish children, but only 5,000 in 1945.

Despite the grim prospects, most Jews never had the chance to go into hiding or hide their children. First they had to have someone who they could trust to take them, and they needed documents. There were harsh penalties for Jews who tried to flee the ghettos and for those helping them.
http://en.wikipedia.org/wiki/The_Holocaust_in_Poland
http://www.dummies.com/how-to/content/understanding-the-treatment-of-jews-during-world-w.html
http://library.thinkquest.org/12663/summary/19331939.html
---
Survivors of the Shoah Foundation
Steven Spielberg's Holocaust Project
http://resources.ushmm.org/film/search/simple.php

Douglas Greenberg is president and CEO of the Shoah Foundation. 51,661 Holocaust survivors were video taped by Spielberg's foundation. A staff of 69 researchers is now reviewing and indexing the 117,000 hours of testimony is being reviewed by these staff people - from 57 countries and speaking 32 languages. It would take a single person scanning the videos 24 hours a day, more than 13 years to finish the job. It is estimated that it will take the staff four more years to link the archived records through 25,000 keywords.
The results of this extreme effort will be the largest available video database in the world, searchable by scholars, teachers, students and eventually the general public. Some of the testimony is now viewable at the Simon Wiesenthal Center in Los Angeles. The Holocaust Memorial Museum in Washington, D. C.; the Museum of Jewish Heritage A Living Memorial to the Holocaust in New York; the Fortunoff Video Archive at Yale University and the Yad Vashem Holocaust Memorial in Jerusalem. Some testimony can now be viewed at the Shoah foundation's web site
http://dornsife.usc.edu/vhi/
---
Swiss Bank Accounts
from the ICEP Investigation on-line with search capabilities of the 20,825 accounts owned by 18,340 people and by 162 companies.
http://www.crt-ii.org/2005_list/names.pdf
---
Tracing Survivors and Documenting Victims of the Holocaust
http://www.redcross.org/www-files/Documents/International%20Services/Holocaust
_Tracing_fact_sheet.pdf
http://www.holocaust-lest-we-forget.com/holocaust-and-war-victims-tracing-center/
2011/04/
---
Unclaimed Accounts
The World Jewish Congress has published a booklet which lists the names of 10,000 Holocaust-era policies that have remained unpaid for Holocaust era Insurance Accounts. For further details phone 1 800 957 3203 or write to International Commission,
PO Box 1163
Wall Street Station
New York, NY 10268
http://www.icheic.org/
Subscribe to the Holocaust-era Restitutions Discussion Group which covers the subject in ample detail and all doubts have been/can be clarified. They have published two ample sets of FAQs answering the most common questions.
http://groups.yahoo.com/group/h-justice
---
Vienna
On June 20th, 1942, a major deportation of Jews from Vienna to Terezin begins.
Deportation from Vienna
A web site containing the Documentation Archive of Austrian Resistance (DOW) and located in Vienna can provide a nearly 30 page paper entitled "Expulsion and Extermination: The Fate of Austrian Jews, 1938-1945" This paper was prepared by Florian Freund and Hans Safrian and translated to English by Dalia Rosenfeld and Gabriel Biemann. The web site is in German and in English
http://www.doew.at
---
Jewish Partisans and Fighters of Volyn in their Memory
http://www.jstor.org/pss/4467246

http://www.jewishgen.org/yizkor/translations.html
---
Wannsee Protocol
The Harold B. Lee Library at Brigham Young University, Provo, Utah, has the 1942 Wannsee Protocol outlining Germany's plans for the extermination of the Jewish population
---
"Antek Zukerman (of blessed memory) the surviving leader of the Warsaw Ghetto uprising, informed Moshe Nutkevich more than 20 years ago, that during the Warsaw uprising, Yona Mordechai Nutkevich was the deputy of "Beit 'ar" leader in the underground. One of the Warriors Organizations in the Warsaw Ghetto underground was o "Beit' ar". A group of 20 fighters, Yona Mordechai Nutkevich among them, decided very short time before the revolt, to cross the ghetto and move to the Aryan side through the drainage system. Zuckerman and his friends in the leadership of the underground, tried to dissuade them not to try, being too dangerous, but they decided to go ahead. Nobody survived this trial, as gas was sent by the Germans into the drainage pipes and suffocated them all. This testimony was never confirmed by any other sources" From a posting by Ada Holtzman
August 1, 1944 - October 2, 1944) was 'probably the largest single operation organized and executed by a partisan organization in WW II.'
http://www.princeton.edu/~mkporwit/uprising/top.html
Kibbutz "Lohamei Hagetaot"
(in Hebrew - the fighters of the ghettos) has a museum that is dedicated to the holocaust. The founders of the kibbutz were survivors of the Warsaw ghetto. Telephone: (dial your international access code, then 972-4 995 8080)
Ghetto Fighter's House Museum
Mr. Yossi Shavit, Archives Director at this address:
Beit Lohamei Haghetaot D.N.
Western Galilee, 25220 Israel,
http://kibbutzimofisrael.netzah.org/lohamei-hagetaot.php
Located just outside of Nahariya in the north of Israel. The kibbutz was founded by Ghetto fighters and partisans from Poland and Lithuania. Email: Yshavit@gfh.org.il
Phone: 972- (0)4-995 8080 Fax: 972- (0)4-995 8007
Email: Mr. Simcha Stein, Director Simstein@gfh.org.il
This site has a wonderful archive and well worth studying its contents.
http://www.gfh.org.il/
---
White Rose
A small group of University of Munich students opposed to the Nazi regime, covertly published and distributed the first of several leaflets urging an end of the war and the over-throw of Hitler.
---
Wiesenthal, Simon - 1908 - 2005
A Holocaust survivor who doggedly tracked war criminals. He is credited with ferreting out 1,100 Nazi War criminals.
http://www.wiesenthal.com/site/pp.asp?c=lsKWLbPJLnF&b=6212365
---
WW II Archives
Features historical documents, photos, and even movies and sounds
http://wwiiarchives.net/
National Archives - WW II
http://www.archives.gov/research/military/ww2/index.html

Photo Gallery
http://wwiiarchives.net/servlet/gallery/0
---
World Federation of Jewish Child Survivors of the Holocaust
A 100,000 member organization with 49 groups worldwide.
P.O. Box 741
Conshohocken, PA 19428
Phone: 1 610 527 1039
President is Stefanie Seltzer Email: fedjcsh@juno.com
http://www.wfjcsh.org/
---
World Memory Project
Millions of documents containing details about victims of the Holocaust and Nazi persecution during World War II still exist today. Through the World Memory Project, you can help make these victims' records searchable online and restore the identities of people the Nazis tried to erase from history, one person at a time. The World Memory Project is changing lives already by building the world's largest online resource for information about individual victims of the Holocaust and Nazi persecution
http://www.worldmemoryproject.org/news/entry/now-searchable
http://www.worldmemoryproject.org/
---

This photo of Oskar Schindler's Factory is courtesy of TripAdvisor
Coveted blue pass for work outside the Oskar Schindler factory. Displayed in Schindler's factory that is now a museum in Krakow
http://www.tripadvisor.com/Attraction_Review-g274772-d647063-Reviews-Oskar_
Schindler_s_Factory-Krakow_Lesser_Poland_Province_Southern_Poland.html
---
Yad Vashem
see my Israel web page
The Jerusalem based Holocaust Martyrs' and Heroes' Remembrance Authority images can be found through a simple Google search because of a partnership between Yad Vashem and Google which has made some 130,000 captioned photos viewable in full resolution online. Viewers may add their own comments to the photo pages and can donate a photograph by sending a scan to holocaust.resources@yadvashem.org.il with as much information as possible and full contact information.
Yad Vashem, Google announce joint archive project
JERUSALEM (JTA) --

A joint project between Yad Vashem and Google will make public access to Nazi-era documents and photographs easier.
Israel's national Holocaust museum and archive and the Google search engine announced that they had made 130,000 photos and documents from the museum's archive available online. The photos can now be searched directly from Google using regular key words.
Once the document is found, the searcher will be prompted to add his own stories to the Yad Vashem Web site, as well as help identify people and places in the photos, according to a Yad Vashem statement. The release of photos Wednesday is a first step toward bringing the vast Yad Vashem archive online over time, according to the museum.
"We're focused on finding new and innovative ways to make the enormous amount of data in our archives, accessible and searchable to a global audience," said Avner Shalev, chairman of Yad Vashem. "Google is an integral partner in our mission, as they help us to reach new audiences, including young people around the world, enabling them to be active in the discussion about the Holocaust."