Map of Plunge, Lithuania as drawn by Yossel Bunka
Front side of Yossel's street drawing of Plunge and Back side of Yossel's hand drawing of Plunge
Descendants of Faigeh Cohen Rosenberg
Married ? Rozenberg who died from the plague after having a son, Isadore
+Isadore Cohen
+Edith ?
+Edward b. m. d.
+ Marion
+Ruth
+m. Fishman divorced
+_Adele m. div. d. 11-29-2013
+Steven
+ Eli
+ m. ?
---
Theodore Soloski was my mother's father. I, along with a number of others, were named after him. He was one of the first Jews to be buried in the Duluth Jewish cemetery. He died in 1900. His burial stone is located right up against a boundary fence in the Jewish cemetery outside of Duluth.
Theodore was the second husband of Faigeh Cohn who had been previously married to a Mr. Rozenberg. He had died during the Black Plaque in Europe and Faigeh (Fanny in the US) married Theodore Soloski. I have not found any information, so far, on Grandfather Theodore.
The Cohn family of Memel, were apparently fairly prosperous and, from what I had learned, were in the shoe manufacturing business in Memel which is now known as Klapedia. We visited the city during our 1986 Lithuanian trip, but didn't learn a great deal. However, some Birth Certificates and other papers are now with Michele Margulis Bretz as I sent her quite a few white vinyl books with various family documents on all of the family.
---
+Theodore Soloski b. in Lithuania d: 1900 in Duluth, Minnesota
+Fanny "Faigeh" Cohen b. 1854 in Memel (Klapedia) Lithuania d. Oct. 10,
1934 in St. Louis County, Minnesota
Note: Feiga Cohen was married to a Mr. Rosenberg while living in Lithuania and I believe he died from the bubonic Plaque. Feiga then married Theodore Soloski and had the children listed below.
Feiga was traced to the shtetl Plunge in Lithuania and the map below was given to me when we visited Plunge by Yossel Bunka - the only Jew left in Plunge at the time of our visit
Descendants of Theodore and Feiga Soloski
+Benjamin R. (Ben) Soloski b. August 8, 1880 in Latvia d: Sept. 7, 1946 in
St. Louis County Minnesota
+Bessie Buchman b. 1883 d:
+Theodore A. Soloski d.
+Minnie
Barbara
Lee
Craig
+Daisy Soloski Tatch d:
+Robert Tatch d:
+Lois Tatch
+Robert ?
+Norman ?
---
+Sarah Rebecca Soloski Milavetz July 28, 1882 in Lithuania d: May 4, 1976 Virginia, MN

1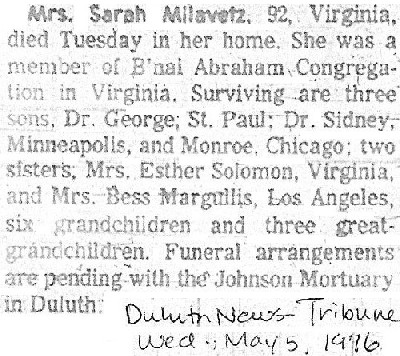 +Ike (Harry" Isaac Milavetz born Dec. 5, 1879 in Germany
d: Sept. 24, 1937 in Virginia, MN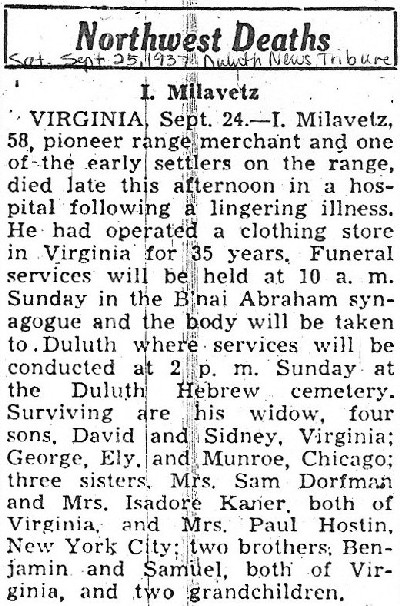 ---
+David Milavetz b: April 16, 1902 in Wisconsin
d: August 29, 1969 in Virginia, MN
+Francis Shirley M (Fraydal) Kaufman Milavetz b: February 25, 1916 in St Louis
County, MN - d: July 24, 1993 in St. Louis Park, MN.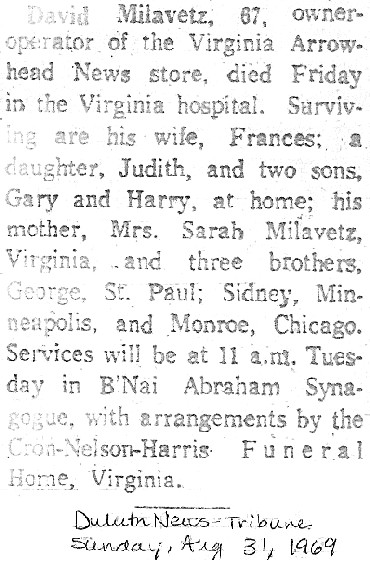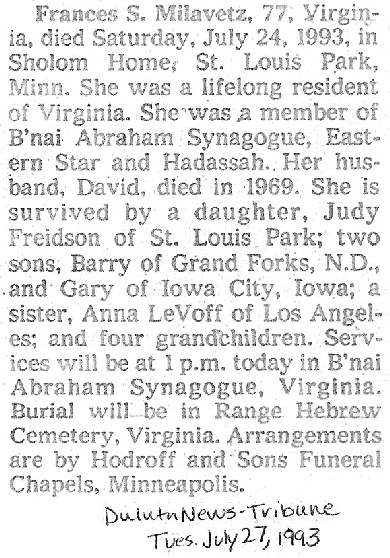 Francis had one brother, Carl, and although he was not a direct relative to the Soloski side of our family, because of most appreciated warmth between the Kaufman and the Soloski families, and the fact that Carl and Francis' father, Mr. Kaufman, we treated him as if he were really a part of the family. A very well liked fellow.
+ Barry Ira Milavetz
+Judith Sue Podell
+Adam Milavetz
+Judith (Judy) Milavetz b: 1946
+Jeffrey Freidson (divorced)
+ Deborah Freidson
+Jenne Freidson
+ Ben Freidson

+ Gary Milavetz b: 1955
+Mary Elizabeth Teresi b: 1960 M: Nov 25, 1989 Minneapolis, MN.
+Francesca Milavetz b: 1995
---
+Dr. George Milavetz b: July 5, 1904 St Louis County, MN d: November 13,1987 in St.
Paul, Minnesota


+Minnie Popkin b. January 23, 1905 St Louis County, MN d:March 9, 1992 in St Paul, MN.


+ Robert Jay Milavetz
+Michelle Yellen b: 1939 d: November 2004 d:

+Alan Scott "Baruch Shloym" Milavetz b: May 15, 1958
+Bonnie Gay Resnick b: Dec. 16, 1959 m: June 1, 1986 in Hennepin County, MN
+David Jacob Resnick Milavetz b: March 24, 1988
+Daniel Elie Resnick "Dan" Milavetz b: Feb. 20, 1991
+Zoe Bess Resnick Milavetz b: Dec. 27, 1995
+Talia Mya Milavetz b: Dec. 27, 1995

+Stacy Jo Milavetz b: 1962
+Jonathan David Gallop b: 1956 m: Nov. 5, 1983 in Hennepin County, MN
+Amy Lynn Gallop b: April 17, 1992
+Mollie Rachel Gallop b: April 17, 1992
+Joshua Peter Gallop b: Sept. 30, 1995
+James Jared Milavetz b: 1963
+Donna Marie Lattari b: 1966 m: August 21, 1994 in Hennepin County, MN
+Maxwell Sidney "Max" Milavetz b: August 1998
+Nicole Mae Milavetz b: Nov. 1999
+Olivia Milavetz b: March 20, 2004
+Richard Duane Milavetz b: July 12, 1933 in St. Louis County, MN

+Kenneth Sheldon Milavetz b: 1933 d: September 7, 1941 in St. Louis County, MN.
---
+Monroe "Duke" Milavetz d
+Ruth Berman d
Chicago Tribune (IL) - July 18, 2007
Deceased Name: MILAVETZ , RUTH BERMAN
Ruth Berman Milavetz, 89, beloved wife of Munroe; loving mother of Karen (Richard J.) Weiland; proud grandmother of Jacob, Ezra and Nathan; dear sister of Julian Berman, Fred Berman and the late Muriel Kerns; fond aunt to many nieces and nephews. Funeral Services 1 p.m. Wednesday at Piser Funeral Services, 9200 N. Skokie Blvd., Skokie, IL. Interment Rosehill Cemetery, 5800 N. Ravens-wood Ave., Chicago. In lieu of flowers, memorials may be made to Community Counseling Center of Chicago, 4740 N. Clark St., Chicago, IL 60640. Funeral info, 847-679-4740 .
Chicago Tribune (IL)
Date: July 18, 2007
Edition: Chicago
Page: 11
Record Number: CTR0707180217
+Karen Milavetz
+Richard J. Weiland
+Jacob Weiland
+ Ezra Weiland
+ Nathan Weiland
---
+Sidney D. Milavetz b. August 10, 1911 in St. Louis County d: Hennepin County
+Edith Dena Smith Krasken b: November 4, 1907 in Ramsey County d: August 3, 1999
in Hennepin County
---
+Morris Soloski - b: 2-22-1890 and lived at 33611 Tampa, Hillsborough, FL.
Social Security: 475-34-7865
+Ann Yessni b: March 25, 1894 d: June 1979
+ Marcia d.
+?
---
+Harry J. Soloski b: 1891 Russia (Lithuania) d: October 7, 1970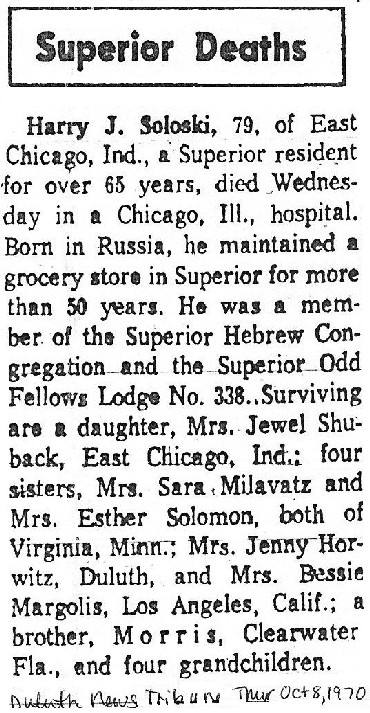 +Mamie Ines Anne "Musel" Milavetz b: 1893 in Russia d: June 7 ?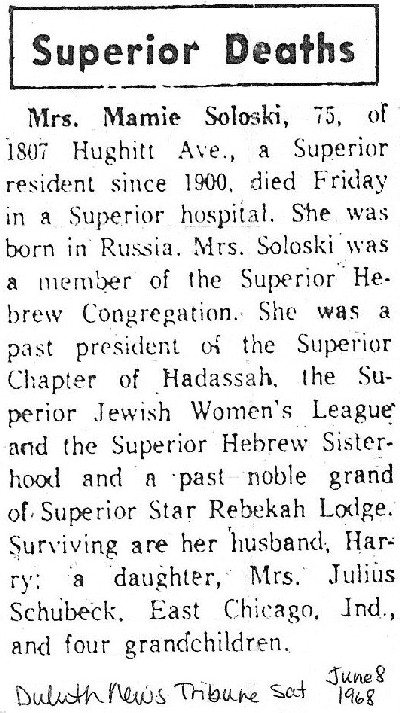 +Theodore "Ted" Soloski b: October 13, 1912 in Crow Wing County d: ? Minneapolis, Mn.
+Beatrice Goldstein
+Warren Soloski
+Son ?
+ Steven
+Jewel Dorothy Soloski b: December 18, 1916 in Superior, Wisconsin, d: Bloomfield,
Michigan
+Rabbi Julius Shuback b: July 9, 1921 in Koblenz, Germany married: 1943 d: East
Chicago, Indiana
+Joyce Abbie Shuback b: July 25, 1951 in East Chicago, Indiana
+Harold Rosenbloom b: October 12, 1951 in Hammond, Indiana d:
+Adam Rosenbloom b: April 8, 1978 in Hammond, Indiana
+Robert Hertz b: July 31, 1947 in Illinois
+Rivian Hertz b: August 18, 1983 in Merrillville, Indiana
+Andrij Ivan "AJ" Petryna b: October 10, 1969 in Hammond, Indiana

+Fred Raphael Shuback b: December 3, 1952 in East Chicago, Indiana
+Mindy Sue Sacks b: March 23, 1955 in St. Louis Park, Minnesota
+Marissa Beth Shuback b: July 7, 1982 in St. Louis Park, Minnesota
+Jeremy Alan Shuback b: August 12, 1984 in St. Louis Park, Minnesota
+Andrea Michelle Shuback b: May 29, 1988 in Milwaukee, Wisconsin
---
Bessie Soloski Margulis b. Superior, WI d. 1-3- Los Angeles, CA
+Samuel Charles Margulis b. Talnoye, Ukraine d. 4-30-1961 Minneapolis, MN
*Marion Margulis Levy b. Talnoye, Ukraine d. 6-4-2000 Chicago, IL
+Charles Levy
+Daniel Levy b. 11-6-1937 Brooklyn, N.Y.
+Lorraine Levy b. New York 1-2-1940
?
+Mildred Levy b. Brooklyn, N.Y.
+Allen Feinstein b. Brooklyn, N.Y.
+Ginelle (Ginny) Hope Feinstein Kuper
+Tyler Charles born 6-4-1991
+Dylan James born 1-14-1995
+Reese Alexander born 4-8-1999
Children of Samuel Margulis first marriage to ? Chernyahovscaya
*Moshe Chaimovitch Margulis b. Talnoye, Ukraine d. Berdichev, Ukraine
+m ? Chernyahahovscaya b. Talnoye, Ukraine
+Tuba Idelevna b. 6-13-1915 f. 11-19-1966
+Yudik Margulis b. Talnoye, Ukraine d. Israel
+Semion Margulis b. Talnoye, Ukraine
+*Aaron Margulis* (Murdered in Kerch, Ukraine with wife & daughter by the Nazis)
+name unknown
+Ida d: Kerch, Ukraine 1940

* denotes child from Samuel's first marriage in Ukraine

Children of Samuel Margulis Marriage to Bessie Soloski
Bessie Soloski Margulis, my mother. Her identical twin was Jennie Soloski Horwitz who
lived in Duluth, Minnesota. Mom died on my birthday and Dad died on my brother's
birthday. She was a "great mom"
+Peggy Margulis Barisof b. Minneapolis, MN 2-14-1925 d. 6-24-?
Los Angeles, CA
+Leo Barisof b. St. Paul, Minnesota, d. Los Angeles, CA
Steven Barisof b. Minneapolis, MN
+Bonnie b. New Jersey
Milo b. Santa Cruz, CA

+Nancy Barisof b. Minneapolis, Minnesota

+Theodore (Ted) Harvey Margulis b. Minneapolis, Minnesota January 3, 1931
+Harriet Sokol b. 6-3-1933 St. Paul, Minnesota (Divorced Minneapolis, Minnesota
d. May 16, 1997)
+Michel Bruce Margulis Sokol b. 2-22-1956 St Paul, MN.
+Stacy Perl Sokol b. 3-12-1953 Minneapolis, MN.
+Joshua Adam Sokol
+Kayleen Sokol
+Olivia Sokol
+Ellie b. Austin, TX 6-18-2010
+Audrey b. Austin, TX 6-18-2010
+Delilah Adeline b. Austin, TX 7-2011

+Amy Sokol Erickson b. Minneapolis, MN 2-22- 1990
+Chris Erickson
+Evan Noah Erickson
+Eli October 2012 ?
+Shirley Bernadine Smolkin b. 9-8-1934 Married: 6-3-1956
Theodore (Ted) Harvey Margulis b. Minneapolis, Minnesota January 3, 1931
+Randi Ellen Margulis Grinbaum b. Los Angeles, CA
+Joseph Grinbaum b. Los Angeles, CA
+Brianna Faye Grinbaum b. Los Angeles, CA
+Jeffrey Jordan Grinbaum b. Los Angeles, A
+Craig Scott Margulis b. 6-20- Los Angeles, Ca
+Beth Garfinkel b. Los Angeles, CA.
+Justin Margulis b. Los Angeles, CA
+Alyssa Margulis b. Los Angeles, CA
+Corey Martin Margulis b. 2-14-1951 Los Angeles, CA
+Sofie Roberge Margulis b. Quebec, Canada
+Emma Zave Margulis b. Philadelphia, Pennsylvania
+Stella Minnie Margulis b. 2-4-10 Phoenix, AZ
+Geraldine Margulis Herman b. Oct. 22, 1932 Minneapolis, MN
+Ronald Herman b. Minneapolis, MN d. Minneapolis, MN.
+Leslie Herman b. 5-22 Minneapolis, MN
+Mike Doyle
+Sam
+Jack

+Laurie Herman
Frank Margulis b. 4-30-1936
+Kali Daneman Margulis b. d. 3-04-2010
+Scott Margulis b. 1-9-1970
+Lisa Horwitz
+Ashley b.
+Brandon b.
+ +Fran ? Married ?
+Michele Bretz
+Rick Bretz
+Caitlin
Anita Margulis b. 2- 14, 1939 Minneapolis, MN. d
Anita, after the death of Bessie Soloski Margulis, resided at 356 South Serrano Ave. Phone: 213 385 0237 in Los Angeles. (Contact: Velma: 213 880 1627)
---

Jennie (Horwitz) (my mother's twin) married Nathan Horwitz (a Cigar Maker) and had William (Selma), Dottie (Milton Altman), Lionel (Marilyn), and Theodore who married Ted's wife, Shirley's first cousin, Harriet Gross.
+Jennie Soloski Horwitz b. Superior, WI d. Minneapolis, MN (Bessie's twin)
+Nathan Horwitz b. 1891 d. 5-29-1945 St. Louis County
+William b: 2-04-1918 d: September 27, 2006
+Selma Gilberstadt d 11- 2011
+Francis m. Laurence
+Benjamin
+Jonathan
+Nancy Cooney
+John Cooney
+Scott
+Alan
+Rebecca
+Stephanie
+Jessica
+Dorothy (Doddie) Horwitz
+Milton Hubert Altman b: July 18, 1917 m: May 21, 1942 in Camp Lee, Virginia d: March
1994
+Michael
+Bonnie
+Justin m. Debby
1 son
1 daughter
+Bryan (not married)
+Sheldon
+Philip
+Maryles

+Neil Edward Altman b: Jan 17, 1946

+Robert Altman b: Feb. 21,1949
+James Samuel Altman b: July 02, 1952
+Lionel (Labe) Horwitz b: August 11, 1930 St Louis County, MN.
+Marilyn ?

+Theodore David (Ted) Horwitz b: August 1936 St Louis County, MN d:11-22-1981
Minneapolis
+Harriet Gross b. 1942 in Mpls. (Shirley's First Cousin)
---
Esther Soloski Solomon b. Superior, WI d. Minneapolis, MN
+Samuel Solomon
+Myrle b: ? in International Falls, Minnesota
+Jack Ehrlich b: ? in St Paul, Minnesota
+Steven
---

B'nai Abraham shul in Virginia, Minnesota where the Cohens, the Milavetz and the Soloskis were prominent members. Note: I'm not sure if the Cohn family spelled their name with or without the letter e.
---
People Who Have Contacted Me Re The Cohn and Soloski Family Connection
Allan Garon allan@Garon.us
Robert Strumwasser RobertStrum@email.msn.com
---
Milavetz Family Notes
Sarah Soloski Milavetz was my mother (Bessie Soloski Margulis) oldest sister. In my opinion, Sarah was not a very giving person, however, her son David and his wife, Frances Kaufmann, made up with their kindness to my immediate family. I knew Aunt Sarah but not her husband, Ike as he died just after I was born. This family were all buried in Virginia, Minnesota's Jewish Cemetery.
Monroe (Duke) Milavetz was the youngest one of Aunt Sarah's sons born in 1911. He was married to Ruth, and was a commercial artist working for Sears Roebuck in Chicago in their catalog department. Duke was trained in Vienna (Vienna School of Design & Crafts) on a scholarship (according to an article in the American Jewish World of Minneapolis as published in the October 16, 1931 issue, but I never saw any of his art as such. He and Ruth adopted their daughter. During WW II, Duke was stationed with the Air Corps and his job was to do the sketches that were needed for the training manuals and work on designing camouflage. Sig Shattil, a cousin, remembered Duke and about the magazine covers he did, when Sig visited Abe Milavetz and his wife Lena in Virginia, Minnesota. According to Ron Shattil (a relative on the Cohen side of my mother's family), Lena died of leukemia. Lena did needle point and made a little foot stool for the Shattil family which Ron has/had.
David Milavetz married Frances Kaufmann and they had Judy (Friedson); Gary and Barry. David was my most favorite cousin. He was a magazine distributor on the Iron Range and was very well respected. Frances was one of the best cook and bakers - ever! I spent quite a few summers at the Milavetz cabin on Sand Lake - just outside of Virginia. Those were just great days what with many of the Soloski clan coming out to visit us - the Minneapolis mishpacha. The cabin, as I first remember, was quite rustic with an outdoor toilet, but when I was in my teens, indoor plumbing was installed and the front porch was screened in allowing me to sleep so peacefully on the porch without the bothersome mosquitoes who liked to munch on me.
George Milavetz was a Dentist. My first recollection of George was at his dental practice in Ely, Minnesota and trying to set up a "shitach" with me and a young lady by the family name of Beugen. Her father was a druggist in Ely. His wife, Minnie was a lovely, quiet lady and in their later years, they resided in Highland Park, in St. Paul. George's practice was at that time in St. Paul.
Sidney Milavetz was also a dentist and practiced in Minneapolis. I understand that he was involved in the development of a dental tool used to wash away debris in the mouth after drilling into a tooth. He married late in life and to a very nice lady, Edith Smith.
There were three (count 'em) Ted or Theodore's; one Ted Horwitz and one Ted Margulis - all, of course, named after our grandfather Theodore Soloski. Ted Soloski, the son of Harry Soloski, died at a fairly young age. He was a food chemist and developed, among several other items, Brown 'N Serve rolls. On his way home from work, most evenings, he would stop by our home on Thomas and give us samples of the various types of rolls he had worked on that day.
The second Ted Soloski was also known as Ted Roberts and he was married to Minnie. This Ted was at first a teacher in Ohio, met Minnie and moved to Los Angeles where he became a salesman selling couch covers for many years. When Shirley and I first moved to Los Angeles in 1957, Minnie and Ted invited us to their home to participate with their family in many Jewish holidays.
Ted Horwitz met Shirley's first cousin, Harriet Gross at our wedding and fell in love with a 15 year old girl. He dated Harriet (aka Butzie) until she was old enough to be married. Ted was a CPA and died at a very young age.
I recently found out that the name David is related to the name Theodore.
Margulis (Margolis, Margoulis)
My father's passport from Ukraine

Samuel Charles Margulis (Chaim Shmuel) aka Sam and "Murphy". He was born in Talnoye, Ukraine. He was married to Hadassah (?) Rosen who bore him two boys and a girl. The boys were Moishe Haimovich and Aaron. The girl was Marion who first married a man by the name of Frank ? and divorced him shortly thereafter and then married Charles Levy and became Marion Levy. I remember hearing that Marion and Charlie may have been cousins. Charles Levy was one of my three GREAT brother-in-laws!
It all started from this fax shown above from The American Red Cross which I received at our home in Palm Desert, California on June 19, 2000. After coming off the ceiling with joy, I then called and spoke to my nephew, Simon (Semion) for quite some time explaining our connection. He was so delighted (as I was) to learn of our relationship. After he got over the initial shock of learning of our connection, he said: "but you are my enemy". He had served many years in the Soviet Army and that is what he was taught.

Shortly thereafter, he and his wife Lana (Svetlana) flew to the US to meet us and some of the rest of the family. After spending time with us around southern California, they continued on to New York to attend his grandson's Bar Mitzvah and to meet relatives of his mother who lived in Cleveland, Ohio.

My half-brother Moishe fought in WW II at Stalingrad. Moishe was awarded a number of medals and some of them hang in my office given to me by Bronislava, his second wife. The medals were accompanied by a red booklet and Simon translated the information from Russian to English, as follows:

"For excellent service in Military Force USSR."
Petty officer Margulis Moisha Haimovich by Order Ministry of Defence USSR N 43 17 January 1959 get Reward Medal "For excellence Service Degree Second" Commander Military Base N6184 Colonel Konyaev. 22 February 1959 By Order Ministry of Defence USSR N 44 Reward Medal "For excellence Service" Degree First Commander base N16580 General - Major Belov 21 February 1963"

Moishe had two sons: Simon and Yuri from his first wife. Yuri died in Israel, and we met Simon (See Margulis Saga

for this amazing story) in Los Angeles.

Aaron, his wife and daughter Ida (who would have been the same age as I) were killed by the Nazis in Kerch, Ukraine. Moshe's first wife was Tuba Rosen. Moishe grew up in Zvenigorod orphanage. After leaving the orphanage, he went to Kerch where he lived with his brother Aaron. In Kerch, Moishe worked in a metal working plant as a steel temperer. From July 1941 until October 1943, he was at the front in a tank unit where he won several medals for bravery. He also played in an Army band. After the war, he remained in military service in Lutsk, then Novograd-Wolynski. He retired as a junior sergeant. He moved to Berdechev in 1967 with his second wife, Bronislava whom he met when she was a nurse in the Soviet Army. He died on June 20 1991 which coincidently is the birthday of my son Craig.
Moshe's grave in Berdichev, Ukraine. That's me next to the gravestone.

Bronislava - Moshe's second wife (we're not sure if they ever married) for many years and who gave us information about Moshe and his life.
Simon (Semen, Simeon) Mikhaylovich Margoulis born 1934. The following information exists in the card file for officers of the Central Archives of the Ministry of Defense of the Russian Federation:

"Major T/S Margulis, Semen Mikhaylovich (Shiman Moysheevich), date of birth - 1935, resident of the city of Kerch, Crimean Oblast, by Ministry of Defense Order No. 0167, dated March 16, 1982, was retired in to the reserves as per Article 59, P. <<a> to the registry of the Soviet RVK of the city of Minsk; on March 23, 1984 was on the registry in the Runze RVK of the city of Minsk, Belarus. The wife of Margulis is (Rashkovskaya) Sarra Suneevna, date of birth - 1940; son- Aleksandr, date of birth 1964."
Today, Simon and Lana live happily in St. Kilda, Melbourne, Australia
Yurly Mikhaylovich Margoulis born 1937. Died in Israel, date unknown
1316 North Thomas Avenue, Minneapolis, Minnesota where I grew up from 1936 until I married Harriet Sokol in 1952.
The marriage lasted just short of 3 years, but we had a son, Michael from this marriage. The phone number at the Thomas Avenue house was Cherry 4003. Before we moved into this house, I was born in an apartment behind my father's upholstery shop and just above us were the Cook family. This was located at the corner of 7th and Lyndale.
When i started Grant Public School, we had moved to 1122 Fremont Avenue North and lived in the downstairs' apartment until we moved to 1300 Morgan Avenue where I transferred to Willard Public school. In 1935 my folks bought the house at 1315 North Thomas - and that's where we all grew up until we each were married. Dad died from a heart attack just a few days before he and mom were to move to Los Angeles. They had just signed the necessary papers and Dad came home from "shul", was watching TV when my mother asked him if he would like some lunch. He answered "yes" and just as my mother turned to go into the kitchen, she heard a "thud" - turned around and saw that my dad had fallen off of his chair and was dead from a blood clot.
When my brother-in-law, Leo called me, I was in shock, and for the first time in many years, I started crying uncontrollably. Dad was a great man - "a real mensch"!
I had a very nice life living at home with my parents until my marriage to Harriet. My very first job was selling door to door snow suits (I was around 11 years old) which were obtained from Chuck Rosen's father's factory. At age 15 or 16, I applied for and was hired to sell women's shoes at Allan's - in downtown Minneapolis where I worked there and a couple of other shoe stores part time while attending North High and later the University of Minnesota. One day, my friend Clarice Sherman, who lived just down the street from us on Thomas, introduced me to her then boyfriend, Mel Zuckman.
Soon thereafter, I left the U of M to open Cleveland TV and Appliance store on Cleveland Avenue in St. Paul, Minnesota. We struggled for a few years and finally I had to give up my share of the business because of two factors: one was that Mel didn't recognize other people's sleeping hours and would make service calls very late at night - sometimes even at 2 or 3 in the morning and I was getting complaints galore but mostly because - after dating Harriet for about a year, she gave me an ultimatum that I either get a regular paying job or she wouldn't marry me.
So I first got a job at an employment agency figuring that if an interesting job were to come across my desk, I could get to it first. And that's what happened. There was a job opening at Kaplan Paper Box/Minnesota Envelope Company as a box designer and estimator - and I jumped at the chance. Harriet was pleased and she made plans for our wedding which took place at the Commodore Hotel in St. Paul. John (Morris) Sokol had just gone through bankruptcy and couldn't afford the wedding, so my Dad co-signed a loan for me with the Chesed Chel Emes in Minneapolis for all of $300.
We were married and within a few months, John died of a heart attack. I was working at Kaplan Paper Box at that time, which was located about a mile from John's apartment in the West Side of St. Paul. Harriet phoned and asked me to come over quickly which I did. As I walked into the apartment, Ida Sokol, Harriet's mother, grabbed Harriet so that Harriet's back was to me and Ida, looking directly at me stated very succinctly to me "now I only have you to take care of me!" It was a very clear message and then I knew I was in deep doo doo at that moment as Ida was a domineering type person who I had continually tried to avoid arguing with her.
Sure enough, shortly after burying John, and without asking, Ida, and Harriet's younger sister Lois, moved into our apartment. I don't remember her ever paying a share of the rent or buying any food, but Ida knew how to boss and she told me, (as an example of the kind of situation I was facing), not to touch the refrigerator door handle without putting a towel around the handle. And it wasn't even her refrigerator!
So there we were - Harriet and I living in a 2 bedroom apartment in St. Paul, along with Harriet's mother and her sister Lois.
Just before Christmas, I came home to the apartment and found my chalk pastels broken and laying on the carpet. When I asked why my private chalk pastels were there and not in the closet where I had kept them, Harriet's mother told me off and said that she had told Lois she could play with them. No I'm sorry ... no apology. I was furious and asked Harriet to come into our bedroom alone.
I took hold of her shoulders and told her that this was the last straw. She had to make up her mind to either live with me or with her mother. Harriet started to cry, but then she looked straight into my eyes and said "I want to live with my mother."
So I left that day and we tried to reconcile - even went to a Rabbi to try to get the matter resolved, but Harriet's mother would not move out and so we were divorced.
At Josh's Bar Mitzvah, Harriet and I were cordial to each other and she met Shirley for the first time. Harriet was suffering from MS and died a few years later after having been married a second time that only lasted a few weeks. Same problem with the mother.

Ted, Mom, Dad and Michael at 1316 N Thomas, Minneapolis, Minnesota
Ted married Harriet Sokol in 1952 and they had a son Michael in 1954 just before Ted divorced Harriet. Harriet raised Michael (mostly by herself) as Ted had moved to California in 1957 where he had received a job offer.
Mike married Stacy Perl on July 4, 1976. Because Harriet held her anger almost to the end, I was not invited to the wedding. Mike and Stacy had two children - Joshua (Kayleen) and had Olivia and twins and Addie. Amy (Chris Erickson) who had Evan Noah and around October, 2012 will have a new great grandson (Eli) to the family. It will be our sixth Great Grandchild!
Abraham (Abe) Margolis (my father's younger brother)
+Rose (Reese) Thomashefsky Margolis
+Dorothy Margolis
+Unknown (divorced)
+Norman Gendein (2nd Husband of Dorothy)
+Alvin Gendein
+Bruce Gendein
+Minnie Margolis Zimmerman b: ? d: ?
+Max Zimmerman b: ? d: ?
+Nancy Zimmerman b: ? in Minneapolis

+Irving Margolis b. 1918 d. 12-21-2012
+Clara ? d: 2014
+? son
+? son
+Linda Margolis Ettinger
+Rabbi Etenu Ettinger
+Jack Margolis d. 2012
+Ruth Rocker b: ? Divorced: ?
+ ? Rose d:
+Barry Margolis
+Sherri Margolis Huff
+son
+ son
+Sarah Margolis Shields b. 1916 d. 11-12-2013
+Sam Shlimovitz (Shields)
+Judy
++Oren
+Michael Shields
+ ?
+Phyllis Margolis Applebaum
+Melvin Applebaum deceased
+Gail Applebaum
+Laurie Applebaum
Possible Relatives to be checked
Other Margulis names that I have not been able to pinpoint as to a relationship with my dad's family.
Berko Margulis (Boris) San Francisco (415 752 8329) son is Michail Margulis, Professor in Donetsk Technical University margulis@kot.dgtu.donetswk.ua Michail has a sister, Yelisavetz (Lisa) Shkolnik Phone: 415 674 1990 pshkol@netzero.net
Howard Margulis (Howard.L.Margulis@Bakernet.com )- Father Nathan of Chernigov emigrated to St. Louis
Sam Margulis (Met on Facebook)
Levy Family
+Marian Margulis
+Charley Levy
+Daniel Levy
+ Lorraine
+Millie Levy
+Al Feinstein
+Ginelle (Ginny) Hope Feinstein Kuper
+ ? Husband ?
+Tyler Charles born 6-4-1991
+Dylan James born 1-14-1995
+Reese Alexander born 4-8-1999

Seating in front, going clockwise: Jill, Marian Margulis Levy (my half-sister from my father's first marriage); Charlie Levy; Lorraine and Danny Levy and Gerri Herman
Marian was, as far as I was concerned, my older sister, even though she left our father's house before I was born. She was a very sweet lady and after Charlie died, she moved to Chicago to be near her daughter, Millie.
The Levy Family
Charles Levy (a possible first cousin to Marian through the Brodsky family) married Marian Levy (her second marriage) and lived in Brooklyn, New York until their retirement to Hollywood, Florida. Charley was one great brother-in-law and treated Shirley and I with such great warmth - as if we had been their best friends since child birth. Marian too was warm and gracious when she first met Shirley and Shirley's father on their trip they had made together to Montreal, where Charlie Smolkin met his sisters for the first time in many, many years and then flew to New York to visit Marian and Charley.
Gift Exchange Days
Ted Margulis
"America's Greatest Trader" in the Gift Exchange 1961. It was located at 8825 West Pico Blvd. Los Angeles. The business idea of creating a business to exchange duplicate or unwanted gift items was mine as my father-in-law, Charlie Smolkin, couldn't find a job when he and Minnie moved to Los Angeles in 1959. The idea took hold and became very well known in the 1960s and 70s, not only in Los Angeles but in 25 other cities where we had franchised Gift Exchange stores. It was much publicized - especially the day after Christmas. In fact, on the Huntley-Brinkley News, Shirley showed off her pregnancy to the world for the first time! Art Linkletter had me on his show three times - Steve Allen invited me twice; Pamela Mason and there were many other guest appearances on both radio, TV and stories about our business in Time, Life, Coronet, Readers Digest, Dallas News and more.